"I've seen blacksmiths with no experience (in sculpturing metal), try to accomplish what I've done, it's very hard to do that . . . I'm very proud, I never had the opportunity to go to school to learn something so I do this to give back."
Salvatore (Sam) Lamonica talks highly of his metal sculptures and with good merit. With no formal education or training he has produced incredible works of art. Using only a hammer and an electric torch, he has created pieces that earn the respect and admiration of critics, art or otherwise. This is his story.
He was born in 1930 in Piraino, Messina - a small agriculture community of 5,000 in Sicily. Unable to go to school because of the war he instead looked elsewhere for job opportunities.
He refused to adapt to the norms of society, finding joy in blacksmithing rather than as a farm hand. "I didn't like to work in the farm," he says bluntly.
By the age of seven Salvatore had begun working with a local blacksmith, learning how to use the basic tools (axe, pick), gradually refining his techniques. At 19 he decided to leave this lifestyle, instead taking a job with the Police Force at Carabinieri. He spent five years with them before immigrating to Canada.
"The opportunities in Italy were limited, I saw a good future in Canada."
He left Sicily in 1954 with his girlfriend and moved to a small apartment on Preston Street. With only a 30 day visa, he had to find full time employment or get married.
"And so I got married," he says and smiles.
He took a job at Auto Ironworks and continued finessing his creative gift. In 1967 he moved to Delmare Street until 1973 when the shop closed.
After this he found a new job with Trudel and McAdam Iron Works where he stayed until 1997 when he was injured on the job (leaving him with little strength in his right hand).
During this time he also had two children with his wife Carolina, Antonio and Nancy. Consistent throughout all this was his creative aspirations. Ever since he was a child he knew that he had this desire inside him, but was repressed by those around him.
"My father would tell me if I go to the blacksmith I have to do blacksmith work and nothing else."
He can also remember his father kicking him when he first learned of his creative aspirations. Against his fathers will Salvatore would build sculptures out of clay and then destroy them, so as not to get in trouble.
Some of his most memorable creations were of a bicycle and various animals. When he came to Ottawa he continued to fight against this oppression.
At Auto Ironworks he was not allowed to use any steel for anything outside of approved projects.
Instead he would take the scrap metal and build his pieces secretly in his spare time. When he was done he would sneak them home inside old pizza boxes. "I support my family and with no money to buy steel, what could I do?"
But Salvatore refused to sell any of his sculptures, instead using them to decorate his own home or giving them to family and friends.
"If I sold them it would seem wrong, like stealing for money."
Finally when he went to Trudel and McAdan Autoworks he found the support he needed.  "They allowed me to use the scrap metal and work on them when I didn't have anything else to do."
One of these creations, too hard to hide, was a 17 foot long dinosaur. It took him nine months to finish, and once done received public appraise. He gladly holds up a picture of him from the Ottawa Citizen and recounts of newscasts from CJOH. It was also put on display at the Rideau Centre.
Some of his greatest sculptures include a pig, a mermaid, the St. Marie (Columbus' boat), an life-size Arab Jesus, a cactus, replica maps of Sicily and Italy and household items such as a liquor cart, plants and candle holders.
Seeing these words that he had produced it is easy to see the imagination and skill that he must possess.
He has this innate ability to draw something in his mind, and then produce it in 3-D. His use of detail is incredible, especially in the way he does cropped hair.
His blacksmithing skill and techniques are simply the catalyst for a free-willing imagination. Salvatore's most notable sculpture was his interpretation of William Marconi. Marconi had no educational training but one day while playing during a storm with some wire invented the radio.
These two men are very similar - neither had any educational training but were able to invent and create simple using their natural talents.
"I'm proud of what I've done . . . I never had the opportunity to go to school to learn something, this is the way I give back." I've heard it said that we are all the product of our circumstances. I never knew exactly what this meant until I met with Salvatore.
Once you talk with him you get to understand that these pieces are not simply a hobby, but an avenue for his creativity.
The sculpture of his boss, William Marconi, the Arab Jesus, these are all simply abstractions of his own life experiences. They represent not only his own individuality but also the collective identity of all Italians.
Salvatore is simply a fascinating man, this is no other word that best describes him. When he speaks of his masterpieces (for which they surely are), he gets this twinkle in his eyes and his Hemingway hands seem to reach for an invisible hammer.
He has managed to produce something extraordinary from nothing - the ability to see, interpret and produce. A man who should be/is an icon.
This is his story.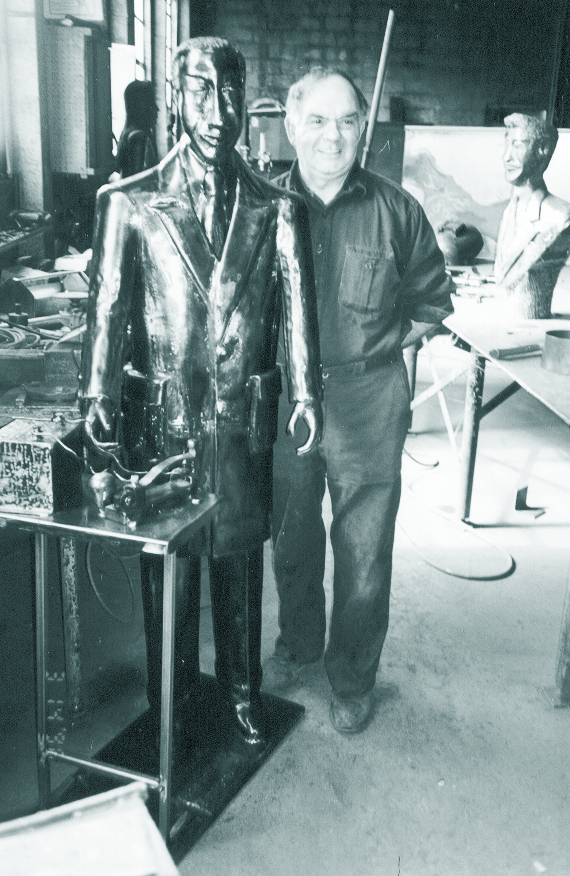 Peacefully on November 13, 2013 at the age of 83 years. Loving husband of the late Carolina and cherished father of Antonino (Jennifer Cyr) and Nancy (Bruno Di Chiara). Dear grandfather of Katrina, Tristan and Sabrina. Brother to Giuseppe (Maria) and the late Angelo (Antonietta) of Ottawa, and Biagio (Nadia) and Tindara (Carmelo Cusma) of Italy. Family and friends may pay respects at the
Kelly Funeral Home, Somerset Chapel
585 Somerset Street West, Ottawa, ON,
K1R 5K1, 613-235-6712
www.kellyfh.ca