SENIGALLIA, LE MARCHE
Visiting Senigallia for the first time is like being single, meeting a good looking guy, and discovering that he has a great personality too. It's easy to fall in love. Because Senigallia may be small, but it has a big heart.
That heart has been fully on display in recent days. On May 3rd, 2014, just a few short weeks away from tourist season, Senigallia's Misa River overflowed and the result was a very powerful flash flood. A large portion of the city was under water.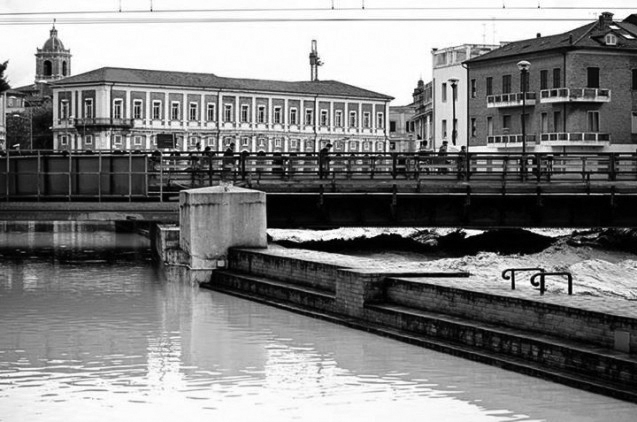 Images by Mirko Silvestrini Urban Photographer. Bravo Mirko.. e grazie!
Now what is left is mud and piles upon piles of discarded sofas, dining room tables and washing machines. Residents have been shoveling slop out of their garages, kitchens, living rooms and bedrooms for days. Shop owners are trying to salvage what they can of their inventory. The Protezione Civile has been on the streets, fielding questions, helping people cross the muddy streets, and directing cars to safer routes. Firefighters have saved young and old, working overtime to make sure that everyone is safe.
But it warms my heart to see the hundreds of volunteers hard at work. They are all over the city, from Borgo Bicchia to Lungomare, offering food, clothing, housing, and, of course, olio di gomito (lit., elbow grease). The usually dapper Senigalliesi are now donning rubber boots and helping their neighbors, with mud stains up to their eyeballs. And almost everyone is also wearing a smile. It's a joy to see people working together, helping out, and giving what they can. People from small towns stick together, and Senigalliesi are no exception.
For up-to-the-minute information about the volunteer efforts and how you can help, visit the Alluvione Senigallia FB page.
*Trans. – "Senigallia is soaking, but ain't giving up!" That's also the rough translation of the caption for the following photo which has justifiably gone viral, by the Gent'd'S'nigaja organization.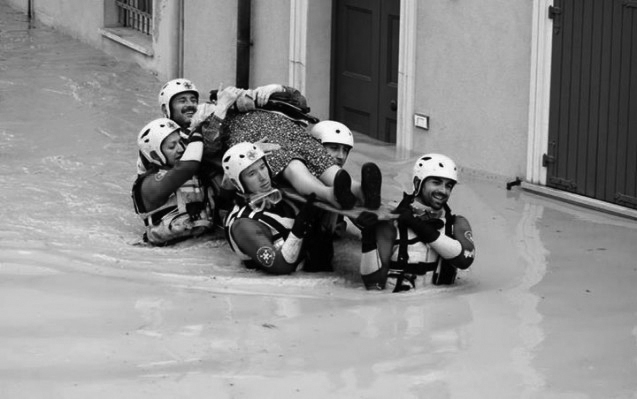 Images by Mirko Silvestrini Urban Photographer. Bravo Mirko.. e grazie!
By Enrica Frulla