The Trip to Italy.
Starring Steve Coogan & Rob Brydon, Directed by Michael Winterbottom
The Plot: Two quasi-friend comedians embark on a scenic road trip around Italy for six meals in six different places.
The Verdict: Go ahead, take this mostly funny 'Trip to Italy' at your nearest cinema for a fine feast of food, wine, landscapes and impersonations. Three cannoli out of five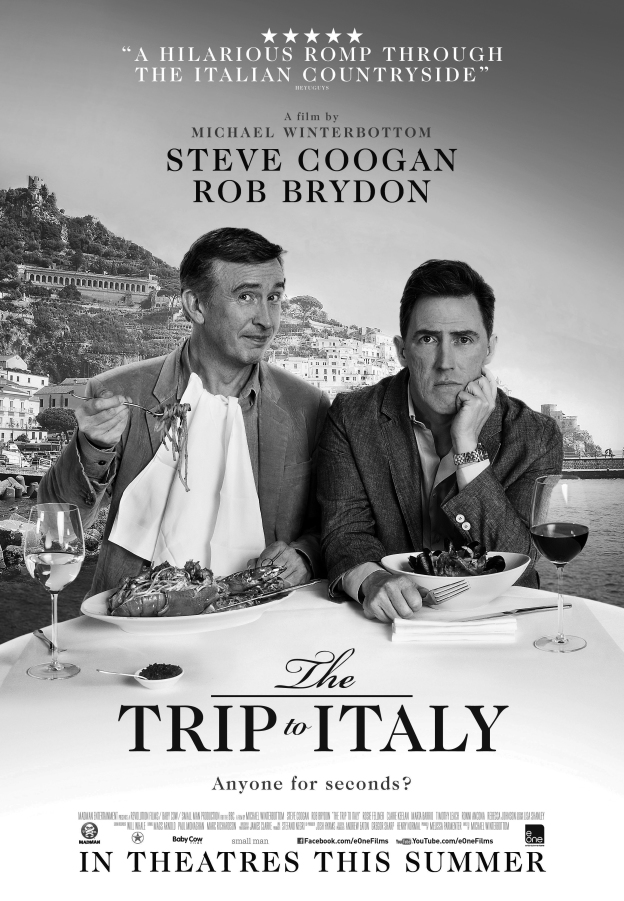 Steve Coogan and Rob Brydon, essentially playing exaggerated versions of their real-life selves, are traveling companions in 'The Trip to Italy,' the sequel to 2010's 'The Trip,' where the duo toured the finest restaurants in the U.K. "Neither of us, with all respect, knows anything about food," Coogan points out early on, and it's difficult to discern if this should matter in the greater context of the film. As we watch Coogan and Brydon's mostly hilarious rat-a-tat banter and friendly attempts at trying to one-up eachother with impersonations of everyone from Al Pacino to Michael Caine, the camera gives us quick but honest peeks inside bustling Italian kitchens. It is here you may wish to linger longer, watching as cooks from the Amalfi Coast to the Isle of Capri prepare their delectable dishes. At times you may yearn to see and hear more about the food and less about Coogan and Byrdon's musings. Nonetheless, consider this your fair warning: do not see this film if you are hungry. What is also visually striking about the film are the almost heavenly backdrops of the varying landscapes as the pair maneuver steep Italian cliff roads in their rented Mini Cooper. If you are hoping for a dramatic climax or surprise ending, look elsewhere. The audience serves as voyeur to the sometimes agitating but mostly charming chemistry between Coogan and Brydon; and if you pay close attention you may learn a thing or two about the process and meaning of art along the way. At its heart, 'The Trip to Italy' is about friendship in the mid-life. It is about the balance between work and family, passion and responsibility. The last half of the film veers into the sentimental, drawing inspiration from poets Shelley and Byron and revealing how the questions that burdened the great minds before us, remain relevant today. So why take this trip? Why take any trip, really? Come for the breathtaking Italian scenery and cuisine and stay for the sometimes gut-busting laughs. After all, as Tolkein put it: "not all who wander are lost," and indeed, if this 'Trip To Italy' teaches us anything, it's that by such wandering we may find our true selves.