The London Telegraph; Adam Sweeting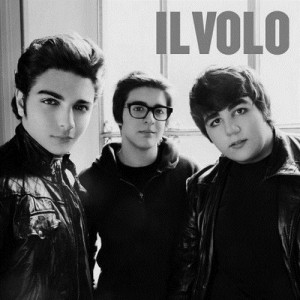 Manhattan"s Beacon Theatre is famous for its neo-Grecian decor, as well as legendary performances by the likes of the Rolling Stones, Steely Dan and the Allman Brothers. But as I found my seat, I could only see a 10-year-old kid called Ethan Bortnick, sitting at the piano in a miniature dinner suit and impersonating Louis Armstrong in a bizarre guttural growl. Then he started wisecracking to the audience like some cranky old Borscht Belt veteran. It was freak-show hell.
Luckily, Bortnick was only warming up for the main event, the Italian teenage "popopera" phenomenon Il Volo. As the trio of singers took the stage with their band and string section, the crowd " or at least its huge female contingent " hit the hysteria button, and remained in a state of shrieking frenzy for the next 80-odd minutes.
They loved the group's syrupy super-ballads, like E Pi`u Ti Penso. They adored their shuffling, Latin-tinged take on O Sole Mio, and their weepy rendition of Charlie Chaplin's Smile. The boys' energetic blast through the old Neapolitan song Funicul", Funicul" struck a resounding chord with a house packed with Italian-Americans lavishly dolled up for a musical trip back to La Bella Italia.
"Oh my Gaaaad!" yelled the woman next to me, tears rolling down her cheeks. "They just move my soul!"
The trio's American tour schedule takes them from the East Coast to California, Arizona, Michigan, Wisconsin, Massachusetts and more, before they head back to Europe at the end of the year. Their hectic work rate is designed to cement Il Volo as a crossover phenomenon which (their handlers hope) will in due course be able to rival the likes of Andrea Bocelli or Josh Groban. The difference is that whereas the former tend to reach middle-aged or older crowds, Il Volo are proving staggeringly successful with the young pop generation.
Their first album -due out here later this month - debuted at number 10 on America's Billboard 200 chart, boosted by a TV blitz that saw them appearing on American Idol, The Tonight Show with Jay Leno and The Ellen DeGeneres Show in the space of a week. For every knee-jerk comparison to the Three Tenors - even though Gianluca is technically a baritone - there has been another to New Jersey boy band the Jonas Brothers.
"We never expected all this to happen", said Piero, "but we dreamed and hoped it would. We thought our music would be for people over 40, but now we understand that teenagers love this kind of music."
"Our goal has been to bring our emotion and our music to the young generation", Ignazio added. "We are doing this and so we are happy."
With maximum commercial reach in mind, their album has been designed to hit as many bases as possible, and of course any dabblings in unadulterated opera are out of the question. As Gianluca put it, "even in Italy young people don"t love opera. People are tired of this kind of music."
"We chose a lot of kinds of music," said Piero. "You can find Spanish songs, English songs, Italian songs and pop songs. It"s music that lets you love, laugh and cry."
Every teen band needs its Svengali, but Il Volo has a whole battalion of them. They were spotted by Italian music biz veteran Tony Renis (author of the much-covered Quando Quando Quando) when they appeared on Italy"s Pop Idolstyle TV talent show Ti Lascio Una Canzone. The boys had each been appearing as a solo contestant, but one of the show's producers suggested they join forces to sing O Sole Mio. When he"d picked his jaw up off the floor, Renis got on the blower to record mogul Jimmy Iovine and producer-A&R man Ron Fair, which resulted in Il Volo becoming the first Italian act to sign to Geffen Records in the States.
The group are managed by Michele Torpedine, who has worked with Bocelli and Italian rocker Zucchero, and he"s assisted by former Aerosmith and AC/DC manager Steve Leber. Renis co-produced the debut album with Humberto Gatica, sometime collaborator with Bocelli, Barbra Streisand and Celine Dion. Let"s hope there"s some money left for the group when this lot have all taken their cut.
For now, they're finding it all incredibly new and amazingly exciting.