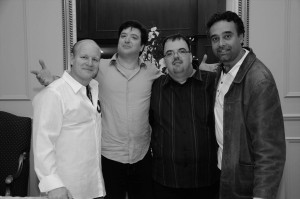 What do three guys from Montreal, Georgia, and New Jersey have in common? A spectacular sense of humour and a true blooded Italian outlook on life. Non-stop laughter was heard coming from the main hall at Buffet Amiens, in Montreal, on Saturday, October 22nd and 23rd, as Joe Cacchione, Vinnie Coppola and Mike Marino shared their stories about growing up as Italians. This was the second time Ralph Buttino from VMG Entertainment presents The Italian Bad Boyz of Comedy to a sold out crowd in Montreal. No less than seven months ago, VMG Entertainment's Italian Bad Boyz of Comedy, featuring Goumba Johnny, Tony Venditti and Joe Cacchione was so successful that patrons demanded that another show be put together – and quickly. With nearly 800 in attendance, that show hosted an appetizing dinner with two full house presentations at Buffet Amiens. This time around the show featured Montreal's own Joe Cacchione, back by popular demand, and Italian-American Comedians Vinnie Coppola and Mike Marino. The show was originally scheduled only for October 22, but a second show, for October 23 was quickly added due to a cornucopia of emails reserving tickets just days short of the official announcement by VMG Entertainment.
Although the overwhelming amount of attendees were drawn from Montreal's Italian community, Montrealers of all ethnic backgrounds came to see the show - Lebanese, Greek, Chinese, Irish, and French Canadians. Some, familiar with the comedians, drove in from Ottawa and New York to enjoy the food, entertainment and, for the younger crowd, late-night dancing. In fact, one does not need to be Italian to enjoy being with Italians. Vinnie Coppola and Mike Marino performed completely in English while Joe Cacchione blew everybody away performing both in English and in Italian. Fluent in English, French, Italian and Spanish, much of Joe's comedy is rooted in linguistics, particularly on the quirks of the English language. Born in Rome, Joe moved to the suburb of St. Léonard in Montreal when he was eight. Now, he has quickly become a comedic celebrity in Montreal. One of Cacchione's pet peeves is the stereotypes invariably associated with Italian comedy in North America. "I'm so fed up with all the clichés. We are so over with that spaghetti/Mafioso comedy. Let's make intelligent comedy," says Cacchione, who is married with two boys. "This show is a little bit more risqué than last year's" he says, "however, I'm not saying anything vulgar. My comedy is clean comedy and has a double meaning. If you choose to interpret it in a certain way, then that's your choice. As long as I can get you to laugh at the end, then I did my job".
Ralph Buttino is already scrambling to put another show together as demands for one have already poured into his inbox. "I'll try to get one ready for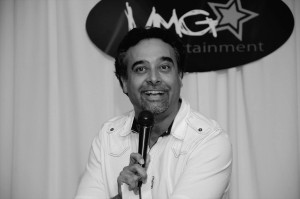 March", Ralph says with enthusiasm. He also tells Il Postino that he would love to bring the show to Ottawa, certain that it will be a hit with the Italian community here. "I need a fair-sized hall to accommodate at least 400 people that serves good food – and I'm there", he says hopeful of an Ottawa show. Ralph is also encouraging people to buy tickets for Joe Cacchione's Christmas theatrical comedy show, English, Second Language, to be held at Leonardo Da Vinci Center in Montreal. For more information on Joe Cacchione, please visit his website www.joecacchione.net or his facebook page http://www.facebook.com/people/ Joe-Cacchione/1129429272. If you are interested to see Joe, in Ottawa, readers are encouraged to send an email with your name and phone number to cacchione. inottawa@yahoo.ca.