Concerto di beneficenza per Villa Marconi
di ZELJKA GASPAR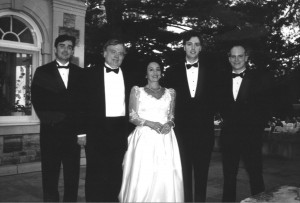 Mormorio di voci, canto di uccelli, suono di violino. Poi, palpintanti ombre di foglie verdi verdi, vino rosso, gialle e rosse ombre che giocano sui muri color caffè latte. In questo contesto suggestivo si è svolto garden party 2000, il concerto di Maria Pellegrini che S.E. l'Ambasciatore d'Italia, Roberto Nigido, e sua moglie, Mieriea, hanno organizzato nella loro residenza a Aylmer (Québec) 12 luglio 2000. Lo scopo era di aiutare la campagna per la raccolta favora di Villa Marconi, la casa di cura per anziani, nonché il centro comunitario per la gente di tutte le età.
Il concerto di Maria Pellegrini ed i suoi 6 studenti è stato preceduto da un ricevimento durante il quale, insieme al cibo, alle bevande e alla musica di violino, si potevano gustare l'eleganza classica della residenza dell'Ambasciatore, la bellezza del suo giardino e sopratutto l'ospitalità calorosa dell'Ambasciatore e di sua moglie. Dopo il ricevimento l'Ambasciatore Nigido ha dato il benvenuto a tutti i presenti ed ha parlato brevemente del programma della serata. Al discorso dell'Ambasciatore è seguito quello del Presidente di Villa Marconi, Luigi Mion, che ha ringraziato l'Ambasciatore Nigido e la sua consorte per la significativa iniziativa e continuo sopporto che loro offrono a Villa Marconi.
Poco dopo la gente si beava alla voca della primadonna e dei suoi allievi che sulla terazza della residenza dell'Ambasciatore, annidata tra il verde degli alberi ed il blu del cielo, cantavano le arie di Puccini, Gounod, Bizet, Verdi, Mozart, Donizetti, Mascagni.
We asked Roland K. Pirker, President of the Austrian- Canadian Council and a Film Director, how he liked the Garden Party.
``I enjoyed it immensely. We organize the same type of fund raising events at the Austrian Embassy. We have so much in common with the Italians; our Ambassadors are friends and champions in doing this. They are here to further our causes with the cultural events which can be enjoyed by every nationality. This is exactly what I enjoyed the most. His Excellency, the Ambassador of Italy, and his wife should be congratulated for allowing people to come to their property and share it with others. Also, the music was fabulous. It was too loud at first, but after the man who was responsible for the sound adjusted it, you could hear the real voice of Maria Pellegrini. And what a voice! What a voice! What I want to add is that we should bring the young people to these concerts to develop an appreciation for this type of music.``