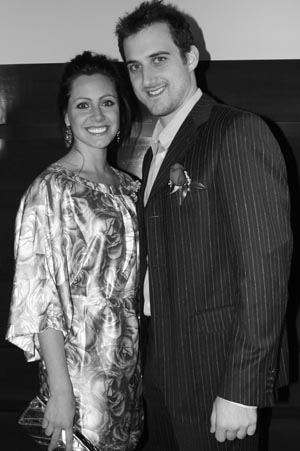 Nick Foligno, last name pronounced Fo-lee-no, was born October 31, 1987, in Buffalo, NY (United States), with Canadian / Italian parents. He is now a Left Wing professional hockey player, with the Ottawa Senators (NHL) , who wears Jersey number #71. He stands 6'0' feet tall, weighs around 209 pounds, and was chosen in the first round 28th overall by the club in the 2006 NHL Entry Draft.
I had a chance to talk to Nick about his career, and asked him some questions that his fans wanted answered!
Giovanni - Where is your Dad from in Italy?
Nick - My Father is from Molese which is in the region of Abruzzo.
Giovanni - How many siblings do you have?
Nick - Two older sisters and one younger brother.
Giovanni - What is your favorite food?
Nick - My favorite food is steak.
Giovanni - What is one word to describe your experience as an Ottawa Senator?
Nick - Amazing.
Giovanni - How difficult was it to deal emotionally, as a player, with the recent death from cancer of your mother?
Nick - So difficult, because I not only lost my mother, I lost my biggest fan and supporter, so to be honest the game seemed a lot different this year coming into it because of that. But I have found I have a lot more heart and passion to be my best for her.
Giovanni - How often in life do you have to correct people who misspell your last name?
Nick - A lot more than you'd think. Many Italians get mad because they feel I pronounce my name wrong, but it's how I grew up saying it.
Giovanni - As a child did you ever dream that you would be in the NHL, like your dad?
Nick - Absolutely! I think that's where the fire to become an NHL player began. As a kid I dreamed of being an NHL player and never stopped believing in that dream.
Giovanni - How did your Father's career in the NHL influence yours?
Nick - The biggest influence was that I learned to love the game like he did, and I think that's what has helped me get to where I am today, all for the love of the game.
Giovanni - Do you and your dad ever go out and play hockey together when you are back home with your family?
Nick - Yeah a whole lot actually. My brother Marcus and I would always be outside playing hockey and a lot of times my dad would join in.
Giovanni - What advice would you give young kids trying to get into hockey as a career?
Nick - Make sure you enjoy the game first. I knew too many kids in my life who lost the love of the game and therefore never reached their potential, so just have fun!
Giovanni - Have you ever thought of bringing back that helmet your dad used to wear?
Nick - No never. That was his and I wouldn't dare wear that ugly thing! (laughs)
Giovanni - How do you pronounce your family name: "Foleenyo" (as it should be) or "Foleeno" as the sports commentators do?
Nick - My family pronounces it "Foleeno", like the announcers. But I do know many Italians who have corrected us about how we say it.
Giovanni - How does it feel to be able to play hockey and get paid? What pushed you to become a hockey player?
Nick - Its obviously a great feeling to play the game you love and get paid for it, but what pushed me to be a NHL player was to be the best at what I do. The competitive drive internally!
Giovanni - If you could donate something for charity. What would you donate? Money, time, effort, etc..
Nick - For charity I think time is more important than any money you can give. Obviously money helps in all situations but its the time you are willing to give to help someone or something that you are passionate about and try to make a difference.
Giovanni - In hockey, what was the hardest thing for you to learn and why? A certain skill, personality conflicts that had to be overcome, etc...
Nick - Being a consistently good player night in, and night out.
Giovanni - What makes you a great hockey player and why?
Nick - I don't know what makes me a great hockey player. I'd like to think I have a few attributes that make me stand out but most of all I pride myself on my competitive nature and work ethic. I think the rest of your skills are only as good as your work ethic.
Giovanni - Growing up who was your all time favourite player? Have you meet him yet?
Nick - Peter Forsberg, he was amazing to me because he did it all. Hit, scored, made nice moves. Complete player. And I got a chance to meet him luckily when my dad coached the Colorado Avalanche when I was younger.
Giovanni - If you found out that you were to be traded, where would you like to play?
Nick - I don't want to be traded. (laughs)
Giovanni - What does your father think of your success and you following in his footsteps?
Nick - I think he's proud like any father would be. He wants to see me be successful no matter what I do. But I am sure he's proud I'm able to make a career out of the same game he enjoyed so much when he played.
Giovanni - How have your friends and family reacted to your success? Has there been any issue or problem? What changes in your life have you made?
Nick - No different. I believe they are happy for me. They are my biggest supporters and without them I wouldn't be doing this, so I thank them for their support and care. I just wish I would get to see them more because the season is so demanding we don't have time for much things outside of the rink.
Giovanni - Who has been the biggest influence in your life?
Nick - My family, from my father and mother to sisters and brother. Their support has been instrumental in allowing me to play this game I love so much.
Giovanni - When you play a game against the Toronto Maple Leafs... apart from the 'Battle of Ontario' hype, do you have mixed feelings because your father played with the Leafs and you probably cheered them on when you were younger?
Nick - Not at all, I want to beat them more. You learn to dislike the Leafs... a lot! (laughs)
Giovanni - Nick, your dad used to jump up off the ice when he scored. Have you ever done it and if you have, how did it feel and what did your Dad say to you after?
Nick - Yes, I did it my first career NHL goal and I said I wouldn't do it again. It was a tribute to him when I did it as a thank you for all his support for me. I remember him being really proud and teary eyed when he saw me do it. It was a special moment.
Giovanni - What sacrifices have you had to make, if any to get to where you are today in your career?
Nick - You don't really get to be a kid and go out and party a whole lot with friends. A lot of your summer is dedicated to working out and taking care of your body. Although I still find time to enjoy myself and see friends, but it's a small price to pay to play the game you love.
Giovanni - How does your training and nutrition change between the on-season and the off-season?
Nick - Obviously during the season we try to stick to protein and things that will help maintain what we worked on all summer. In the summer we can enjoy ourselves a bit more but we are still working out then too so its not much of a difference.
Giovanni - I would never walk out of the house without...
Nick - My cellphone!
Giovanni - The best gift you've ever received?
Nick - I can't think of just one, maybe my first set of hockey equipment.
Giovanni - What do you do to unwind and relax?
Nick - I love movies. I am a big movie guy, so I definitely enjoy going to the theater or just relaxing with friends or my girlfriend at home.
Giovanni - What is your favorite nickname?
Nick - Neiler calls me Gargamel that makes me laugh a lot. I don't like it that much obviously, but it is funny.
Giovanni - Is it everything you expected it to be, what surprises you about your career?
Nick - Yes and no. I knew it would be amazing, I just didn't realize how great. I am still learning so much and that excites me!
Giovanni - Your annoying habit?
Nick - I bite my nails
Giovanni - What would be on your To Do list in 2010?
Nick - Win a Stanley Cup !
Giovanni - What is the highlight of your life, and your career?
Nick - Playing in the NHL. The highlight of my career would be scoring in the playoffs against Pittsburgh.
Giovanni - Everyone has a good luck charm, what is yours?
Nick - I have a patch of my mothers initials in my pants that gives me luck!
Giovanni - What would the readers be surprised to know about you?
Nick - I'm a great singer! (laughs)