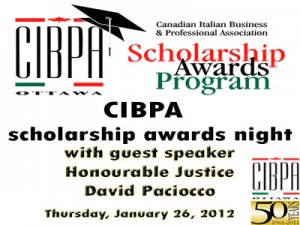 Guest Speaker the Honourable Justice David Paciocco
The Canadian Italian Business and Professional Association (CIBPA), together with the Italian Canadian Community Centre, invite you to the 15th annual CIBPA Scholarship Gala Dinner on Thursday, January 26, 2012, at 6:00 p.m. (dinner to follow at 7:00 pm). Three scholarships will be awarded to post-secondary students who have demonstrated outstanding academic achievements and significant community involvement.
The evening's guest speaker will be the Honourable Justice David Paciocco who will be recognized for his successful career in legal education and advocacy, as well as his recent appointment to the Ontario Court of Justice.
Tickets are $50 for a five-course Italian dinner and the reception will take place at the Orchard View Wedding and Reception Centre located at 6346 Deermeadow Drive. For more information, please phone 613-821-2675 (Orchard View) or 613-567-4532 (Il Postino), or visit www.cibpaottawa.com or www.ilpostinocanada.com.
Proceeds will benefit CIBPA's Scholarship Program and the Villa Marconi Long Term Care Centre.