Article / Photos GioVanni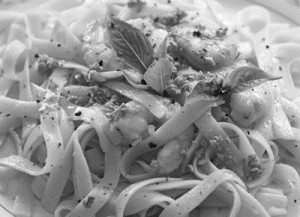 On a lovely Thursday evening a friend of mine and I decided to venture out and try a restaurant which we had been hearing great reviews. Being on a strict gluten free diet, it was only a matter of time before my companion would have made her way to Ottawa's first and only 100% gluten free restaurant. And I must admit curiosity brought me along with her. Opened two years ago this October, the owner / chef, Luigi Paravan saw a need and decided to fill it.
The restaurant though small was quite lovely. From the moment we arrived we could see that it was quickly filing up. A slight hum of voices could be heard over the soft Italian music. Grateful we made a reservation, we were quickly seated at our table. With menus in hand we listened attentively as our server informed us of the evening's table d'hôte. Consisting of a cream of roasted red pepper soup followed by a Caesar salad we were given a choice of three main courses. The first was a pasta dish in a white wine olive oil sauce with sundried tomatoes, spinach and shrimp. The second option was a chicken scaloppini with fresh artichokes in a lemon white wine sauce. It was served with risotto and seasonal vegetables. The final option of the table d'hôte was a pork loin roast in a red wine reduction with mushrooms also served with risotto and seasonal vegetables.
We decided on the pasta special, and two items from the regular menu, calamari and gnocchi four cheese. The calamari was light and golden. The cream of roasted red pepper soup was rich and creamy. I don't think I have had such a flavorful soup in a long time. But the highlight of the night was the warm and moist bread which was served with our appetizers. Olive oil, balsamic vinegar and fresh herbs were lightly drizzled over top of our loaf. To this day my friend is still raving about the bread. It had been years since she has had bread let alone enjoyed it as much as she did. Luckily for her our server informed us that they often sell then bread to customers who call in and order at least 24hrs in advance.
The Caesar salad came with croutons and parmesan cheese. I enjoyed the salad but unlike my friend I prefer less dressing and therefore would ask for the dressing on the side the next time.
Our server was ever so attentive always ensuring our waters were full and our wine glasses topped up without making us feel harassed or disturbed. The main courses arrived and did not let us down. The pasta dish was light a tasty. The shrimp were a good size and the presentation was wonderful. The gnocchi four cheese (which was a recommendation by our server) was to die for. Rich and creamy the flavors just melted in your mouth.
When our dinner was done we were satisfied and full. But what dinner would be complete without dessert. And boy did Caprese not let us done. Though there was a variety of choice, we decided on the flourless, dairy-free chocolate torte and the chocolate cappuccino cheesecake. Both were so good I would even go back again just for coffee and dessert.
The evening was a great success. Whether or not you are wheat and gluten intolerant Caprese Ristorante Italiano offers an enjoyable evening for all !