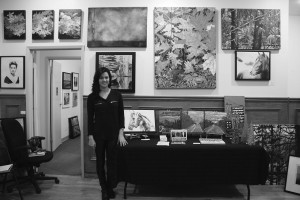 With a passion for the arts from a young age, it's no surprise to see Ottawa-born Lauryn Santini in a pop-up shop at Bell Place on Elgin Street filled to the brim with paintings and pictures. Though she didn't start in visual arts, Santini has always been surrounded by the arts; music, dance, drama and more. She first began to pursue her love of art with a bachelor's degree in Art History and Critism from the University of Western Ontario, finding an interest in the history and research of art. However, instead of becoming a historian she chose to apply to Sotheby's Institute of Art in New York for their art business program to differentiate herself from her peers, a choice that would be instrumental in letting her pursue her own desires.
After finishing her degree, Santini found her way back from the lights of New York to Ottawa, to her family and to her home. New York is a big city with a huge arts scene and more opportunities than Ottawa, but there was far more competition for a new graduate. Lauryn wanted to go out on her own and create her own business; she wanted to help grow the arts in Ottawa through supporting local artists. "I think there's something really nice about supporting local and ... when you stay in one place all your life you have a lot of pride for your city" she said.
As an art consultant, Santini works closely with over 20 artists, running what she calls a "gallery with a mobile space" throughout the city and online, allowing for these artists to have exposure that they need. The pop-up shop is a perfect example of this – these shops are fairly new to the city and aren't as common in Ottawa as in other big cities, but this year there have been more pop-up shops because artists know this temporary space allows you to move around the city and gain exposure, showing a lot of people your art. Lauryn feels that a great deal of her success comes from the constant movement throughout the city, bringing art to a wide range of people instead of having them come to a gallery.
Santini is also involved in charity events in Ottawa, combining benevolence with art. As the Vice President of the Ottawa-Gatineau Chapter of the Crohn's and Colitis Foundation of Canada (CCFC), she was involved in the 8th annual Martini Madness, helping to raise approximately $54 thousand towards the foundation. This is her fourth year volunteering for the event, putting together an art show and silent auction that was the most successful to date.
According to Lauryn, the city has a lot of potential but has a tight knit art scene with a lot of artists who need promotion, to have their art on walls and seen in multiple venues. "It's important to specialize in local and affordable art because a lot of people think art is expensive", she said. Her shop had many original, unique pieces from local artists with a price range between $150 and $1000, all of which were visually stunning. Santini helps artists get their work out to the public, letting people see what Ottawa artists are capable of creating. With her passion and dedication, Ottawa will likely be seeing a lot more art in the near future.