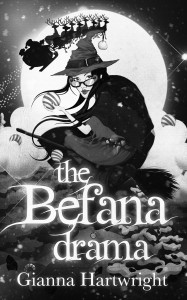 The e-book version of the most magical children's book of Christmas 2013, The Befana Drama, has launched in time for October 12, to help Thanksgiving in Canada, Columbus Day in the USA, and Italian heritage in communities around the world.
The Befana Drama, by Gianna Hartwright, is a global adventure by broomstick, based on Italy's traditional present bringer, The Befana, but giving her a whole new 21st century persona as a re-juvenated and cooler witch and VIPB (Very Important Present Bringer) called 'Bef'.
In this story, for children aged 8+, The Befana is making plans to deliver candy to good children and coal to naughty kids, just as she has done for centuries, when her mayor tells her that her 'fruity freebies' can no longer cut it and compete with Santa's gadgets and gizmos. When told that Santa, who has had a makeover and now sports Gucci boots, is preparing to take over her patch, the wart-ridden witch sends candy balls bouncing down the street in rage!
She decides to call in a favour centuries old, owed by the descendants of the Three Wise Men, who she once helped to find the Baby Jesus. She tuber-charges her broomstick with potatoes and flies off to Dubai, where she finds Gaspar, Thaz and Mel are now a boy band called 'The Three Kings'.
Having acquired gold and potions and paid a visit to Old Father Time to re-juvenate and gain a disguise, Bef sets off to stockpile enough coal and candy to take over all of Santa's present deliveries, in an attempt to retain the hearts of her Italian children. She first has to visit 'The Most Fearsome Feller in Folklore', Bernhardt Bürstenfrisür, who dwells in the Black Forest, to get her broom adapted to carry more supplies. From there, she heads to a Russian coalmine, drops in on an exiled-to-Siberia tailor and then encounters Rocky Candymeister in a candy factory in Chicago.
With her supplies on board, she recruits her main ally – the best reindeer whisperer the world has ever seen – in Iceland and then heads to Lapland, unprepared for the actions of the vain, shopaholic wife of Santa, Capriccia Claus, her shallow Casa of Contentments and her cohort, the sly 81st elf, but still determined to win nonetheless.
Whether or not that happens is for the lucky young reader to decide – along with the parent reading the bedtime story – or Bef-time story – as it is being dubbed, which gives lots of opportunity for parental involvement through actions and the opportunity to become a larger-than-life character every single night.
This book is not just a global adventure and journey into the charmed world of VIPBs, but a book that carries a strong message about commercialism and the qualities and gifts that really matter in life. Bef is told her 'fruity freebies' can't 'cut it any more', but proves differently.
The book is making waves in the UK, where Gianna Hartwright lives. She is about to embark on a Befana Drama Giro-Rama tour of leading shopping malls, retail outlets and visitor attractions across Britain encouraging children to #befriendBef – the hashtag being used on Twitter.
With the new e-book now available, that's something that's sure to happen worldwide. Head to Amazon, Lulu, Kobo and other e-book sites to buy. This hugely creative and entertaining e-book is priced at just $11.17 US and $11.60 Can. More information is at www.thebefanadrama.com
The paperback version of the children's book costs just slightly more and is also available online.