by Jerry Buccilli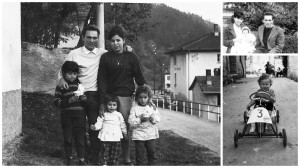 From a very early age my parents instilled in me a deep love for food. For us, as with many Italians, food was a crucial part of our upbringing. It was sacred. Not to be taken for granted and always to be appreciated. If my mother put a plate of food in front of me it was best that I eat or else! Most of our family talks were focussed when we were at the dinner table. Often my two sisters and I would sit and eat and chat about the day's events at school. Dad would tell his stories and mom would keep filling our plates. Sometimes my mom, who loved to introduce new things, would make something that as kids, we couldn't yet appreciate, such as trippa (the lining of a cow's stomach), but our parents made us eat because it was food, and it took hard work and time to make it, and because it was....sacred.It wasn't until much later that I began to study food and realized that I wanted to cook for a living. The traditions, the smells, the memories that cooking evokes for me is something I want to share with the world especially now when we're at risk of losing those traditions as the "new generation" takes over and the older generation passes on.
The most important day of the week for our family was Sunday. Sundays were made for family gatherings. Mom would wake up early to make her famous meat sauce. She'd make the sauce out of the tomatoes Dad had picked the day before from his garden and she would use a mill to pass the tomatoes through. Always by hand. "Cooking by feel" I like call it now. Then she would labor over the meats. Slowly braising the lamb shanks, the meatballs, always made with pork, veal and beef. No substitutions! Punto e basta! The smell of the meat simmering in the sauce that had been flavored with fresh basil and garlic.....it was amazing.
Often I would hear my dad sing to my mother while she cooked. It's a very romantic memory but it's true! Those were the best of days. To an eight year old kid it was kind of magical. Everything was perfect.
Then there was dinner. Everyone sat and ate. The men would tell stories or argue about soccer, the women would gossip (pettegolezzi) and the kids would eat and laugh and play. As I got older I began to respect the idea behind the Sunday table more and more. I learned a lot sitting there listening to the stories that were told about the old country - tales from my parents' childhood. I began to respect my culture more and more. The pride I began to feel was shaped by my understanding of the sacrifices my parents and their fellow paeasani faced. Their struggles coming to a new country and carving out a niche for themselves. Making a home. Providing for their families.
As an adult I found that my love for tradition and love for food is best expressed through the act of cooking. Food should tell a story: where it comes from, what are the origins of a dish, and great food should invoke memories and emotions. The same types of emotions and memories I've shared with you. No matter where you come from. Everyone has a great memory of a meal they had or a recollection of their own family's traditions and customs.
In the coming months, I hope to share with you more of my personal stories, recipes and opinions about the Italian way of life and my hopes are that in some small way you will revel and share in these stories, recalling something from your own life and maybe, just maybe you'll pass that memory or story to someone else. Maybe you'll write in and tell us about it. After all isn't tradition about sharing?
Jerry Buccilli, is a 2nd generation Italian living in Niagara Falls, Ontario. He currently owns and operates Zeppoli's – Italian Comfort Food, a catering company specializing in Italian regional cuisine. www.zeppolis.ca