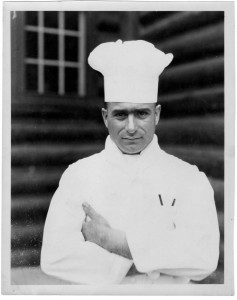 Memories to Memorial: The Internment of Ottawa's Italian Canadians during the Second World War Part 6
Family Memories of Internment
Carlo Scarabelli
It was a refrigerator that prompted Carlo Scarabelli to leave his position as chef at the Waldorf Astoria hotel in New York, in 1920 for work in Winnipeg. The Fort Garry Hotel, then the tallest building in Winnipeg, boasted a hotel kitchen with a state of the art electric refrigerator. This was a magnet for a French chef who would go on to create the first modern hotel kitchens in Canada, a technical and organizational revolution in food services.
In 1927, then a naturalized British subject, chef Scarabelli joined the Chateau Laurier Hotel in Ottawa and by 1929 was promoted to executive chef, in a hotel that fed the political, diplomatic, and social elite of Ottawa. The restaurants at the Chateau were the best in a city. Here Mr. Scarabelli was working hard to prove that fêves au lard, and pork hocks and sauerkraut, the mainstay of the loggers who populated this lumber town, while tasty, need not be the city's principal menu item.
Carlo Scarabelli who was born in 1888 in Pavia, Italy, ran away to Milan at the age of thirteen to be apprenticed in order to study to become a chef. He then went on to work under the great French Chef, L'Escoffier. Work took him to positions in St. Moritz, Berlin, London, and New York and he travelled to as far away as Singapore. He was known for his sublime sauces and for taking the simplest ingredients and elevating them to works of art.
One of the oddest places where Mr. Scarabelli worked his magic on limited ingredients was the Petawawa Internment camp in Pembroke Ontario. From July 2, 1940 to August 12, 1940 Carlo Scarabelli was interned as an enemy alien under the War Measures Act. At 52 years of age he was among a number of men of the same vintage. Men of Italian origin who through
their skill and hard work had gained stature in Canadian society and who as a result were objects of envy. Whispered accusations by snitches to appointed government agents were enough to have them declared enemy aliens.
One can just imagine the havoc that ensued in the food services at the Chateau with the sudden departure of its executive chef. During the Second World War Ottawa was a particularly busy place and a hive of political and military activity. Well-prepared food went a long way to enabling the difficult discussions that were being held over meals in the Chateau's Canadian Grill.
As Nello Bortolotti, who was a teenager working in the Chateau kitchens at the time, recounted, "it was ironic, then, that on December 30, 1941 when Winston Churchill, at the end of a dinner for five hundred guests of the Department of External Affairs held in his honour at the Chateau, asked to compliment the chef, who appeared to accept the appreciation of the great leader but Carlo Scarabelli."
In the years following the Second World War, Carlo Scarabelli left what happened during the war years behind him and continued his career at the Chateau until 1949. He spoke little of these experiences with his family. While he went on to work in various other cities in the US and Europe, Ottawa remained his home base. Mr. Scarabelli's grandson, Ricardo Scarabelli remembers him as a person who cared deeply for his family. Looking back Ricardo ruefully acknowledges turning down pasta made with his grandfather's sophisticated sauces and wanting buttered noodles instead. Carlo Scarabelli also spent time showing his grandsons how to carve ice for table decorations, the importance of setting an attractive table with floral arrangements, and the joy that eating a fine meal together can bring.
Ricardo has put it best.
"In Carlo's case he was compassionate despite the hardships that he endured. Never a bitter word was uttered. The camp was never mentioned. Instead he enjoyed being in the service of others always. He served the same meal to kids / working class people / tramps. That's the point I feel was his highest achievement. In short, I am most proud of my grandfather for his high standards in the way he treated people equally."
Carlo Scarabelli officially retired in 1966 and died quietly on December 9, 1976, at Ste-Anne's Veterans Hospital in Senneville,
Quebec.