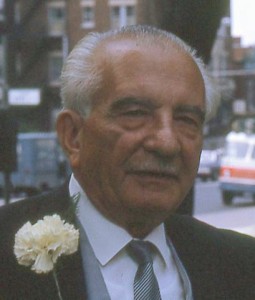 Vittorio Sabetta
Dr. Vittorio Sabetta was a skin specialist with a thriving practice from 1933 to 1980 on Cooper Street, with the last fifteen years on Metcalfe Street in downtown Ottawa. He was born Ururi in the Province of Campobasso, Molise in 1899 and graduated from the University of Napoli in Medicine and Surgery in December 1924. In 1925 he also attended the University of Pavia.
He came to Canada in 1927 to join his eldest brother Dr. Antonio Sabetta, Dermatologist and Syphilogist, who had come to Canada in 1925. They both started to practice medicine in Sault Ste. Marie, Ontario. Their father Dr. Matteo Sabetta encouraged them to do this as he had a colleague there who had told him there was a large Italian community (approx. 10,000) in need of Italian doctors. At the end of 1926, Dr. Antonio Sabetta opened a Medical practice in Ottawa and in Montreal where he worked at the Notre Dame Hospital, the University of Montreal Teaching Hospital as Professor of Dermatology and Syphilology. Dr. Vittorio Sabetta wanted to move to Ottawa to join his brother but the Great Depression was declared and he decided to remain in Sault Ste. Marie in order to support his fellow Italians who were affected greatly by the economic catastrophe. Many lost their jobs at the Algoma Steel Company, which had to close down. In 1933 he was finally able to move to Ottawa.
On June 10, 1940, Dr. Vittorio Sabetta, also a naturalized British subject, was arrested and interned on June 12, 1940, simply for being an Italian Canadian, but perhaps also because from 1928-1940 he held an important position in the Sons of Italy of Ontario. Sabetta's brother Oreste living in Sault Ste. Marie was also arrested. Neither brother was ever charged. Their other brother Dr. Antonio Sabetta, who was living in Montreal, had just gotten married on June 4, 1940, and was on his honeymoon in New York City when he heard of the arrests and internment of his brothers. He therefore did not return to Montreal but instead had a visa to work and found a job at the University of Philadelphia as a Professor of Dermatology. He returned to Canada only at the end of the war but his wife Consuelo, who had no visa, travelled back and forth from Montreal to Philadelphia with their daughter Yolanda who was born in Montreal in May 1941. Dr. Antonio Sabetta saw his daughter for the first time when she was 3 months old.
In Ottawa, Dr. Sabetta was a well-respected intellectual, and orator who would often be called upon to give speeches for community events and banquets. As noted he was a member and very active in the Sons of Italy, which was a mutual aid society that helped with the funeral expenses of its members. When the head organization of the Sons of Italy decided to be non-sectarian, Ottawa's chapter instead lobbied to retain its religious affiliation and broke from the main group. Dr. Vittorio Sabetta was recorded as stating that, "I am not ashamed of the gospel."
Italo Tiezzi, whose own father Gino Tiezzi was interned, remembers Dr. Sabetta very well, as he was Italo's godfather. Italo remembers a few stories from that time. As a testament to the strength and resilience of individuals, Italo recounts that on that fateful day when both his father and the Sabetta brothers were picked up they found themselves in the back seat of the same RCMP car. When Gino Tiezzi and Vittorio Sabetta tried to talk, the RCMP officer sitting in the front seat told them that they could not talk. Instead Dr. Sabetta then began to communicate by singing in operatic mode
"Quando ti hanno preso..."(When did they take you...). Of course they were stopped from doing that too, but it showed how resourceful and un-intimidated they were faced with such an ordeal. After Dr. Sabetta was picked up, the information that was circulating in the community was that Dr. Sabetta's files and his equipment were confiscated. He was released on February 15, 1943 and was able to resume his practice. However, a car he had that was left in the care of a long time girlfriend Miss Sabourin was never returned. Nello Bortolotti, who at the time was a child, remembers Dr. Sabetta as a friend of his father's. Nello's recollection of that time after the war revolves around Dr. Sabetta's new car. During the war cars were very difficult to have, but because Dr. Sabetta was a medical doctor, he was able to get one of a few. Yet, as chrome was needed for the war effort, what was memorable for Nello was that this car's bumper had been replaced by a wooden one. At the time of his internment Dr. Sabetta was not married, though he would later marry Lina Bucciarelli. Before Dr. Sabetta was interned, Nello's mother was often seen helping Dr. Sabetta, tending his garden, helping with the chores in his home. While he was interned Italo's mother and grandmother who were looking after their own loved one Gino Tiezzi, also sent Dr. Sabetta packages and cared for him as well. For years afterwards, Dr. Sabetta always remembered this act of kindness and brought a gift of a plant to Italo's maternal grandmother, Lucia Dinardo at Christmas time as a thank-you for her care of him during that difficult time.
Yolanda Sabetta, Dr. Sabetta's niece remembers her uncle as; "a man who stayed young at heart until his death. He was sociable; he liked people and liked to sing, to dance, and to party. He was generous with his time and money, very devoted to his patients, to his profession, to the Italian Community and especially to all the members of his family. He was liked by the young and the old. He had a deep faith and was a practicing Catholic. He remained very close to his brothers and sisters in Italy and to his nephews and visited them regularly and helped them financially as much as he could. He helped to pay the medical studies of his youngest brother Aldo who is now 86 years old and living in San Martino, Italy and his nephew Matteo Sabetta who was the Chief Doctor of Ururi until he retired two years ago."
Following Italy's joining the Allies towards the end of the war in Europe, Dr. Sabetta continued to be invited to speak at community functions and to be very active in the Italian Community and his medical practice until his death. In 1974 the Academy of Medicine and the Order of Doctors and Surgeons officially recognized Dr. Vittorio Sabetta for his fifty years of distinguished service to the community of Ottawa. He died in his sleep on February 20, 1980. He was eighty years old.