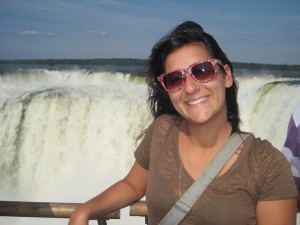 By Danielle C.
Growing up, I enjoyed traveling. But as I settled into my twenties, I discovered what I really loved: adventure, the unknown and the journey of an unplanned trip. To graduate from my post grad in International Development, I needed to do an internship. My bug for adventure was really buzzing, and to the chagrin of my family, I embarked on a mission to Missiones, Argentina. What was I looking for? I was not quite sure, but I did find something fantastic. I found MamaRoja – an eco-venture, a dream in sustainable living and self sufficiency on 80
acres of gorgeous subtropical jungle in the central hills of Missiones in northern Argentina.
Leaving Ottawa, I felt slightly unprepared for what was coming. My Spanish was limited (and promptly mocked by the Castellano speakers of Argentina), I had never been a lone traveler and finally, I hate camping. Nevertheless, I was enthusiastic about the upcoming adventures and the learning curve ahead. After a 14 hour flight, an impromptu stop in Santiago, Chile, I touched down in Buenos Aires, South America's European capital. First impression: I was worried. The city looked enormous and the transit wasn't simple. But I was not to base my Buenos Aires experience on my first 2 days, I would return in a few months to explore this mega city. Because for now, I was off to the jungle.
The overnight bus trek north to the small town of Obera was surprisingly painless. Buses being the main method of transportation in Argentina and throughout most of South America, I felt safe and rested when I debarked the "greyhound". Hiking through the hills of Obera, I found my caravan which in no time became my family. We piled into the truck and made our way to our new home. As we escaped the city limits, crammed in a truck with nine other people, the striking redness of the earth road surrounded by the acres of Yerba plants (a typical South American tea) started to sink in. I was about to embark a remarkable journey.
At Mama Roja, we were focused on positive human action within the natural world. We strived to be good stewards of the land and pioneered it respectfully, constructing buildings with natural materials, installing renewable energy sources, making organic gardens and crop fields, minimizing waste, reducing consumption, and preserving the wild spaces for the native flora and fauna. Those were many of the reasons for which I chose this particular internship. But daily, I was confronted with new challenges, things that no matter how prepared you think you are, you just don't know how you'll react until you live them. First there was the pair of tarantulas on my pillow, and then there was my first time hitchhiking and having to bathe in a freezing river near hibernating snakes. The simplicity of life at Mama Roja paired with the unpredictability of nature offered me what will most likely be, one of the most rewarding experiences of my life.