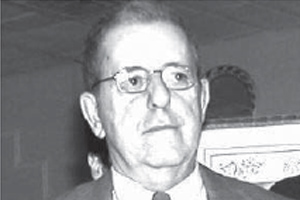 Peter Scott (1939-2012)
Peacefully on Saturday, September 1st, 2012, at the age of 79, surrounded by the Angelo Filoso family. Survived by his aunt Jeanne D'Arc Ouellet. Predeceased by his parents, Victor and Laura Scott. He will be dearly missed by all of the Servite Fathers of St. Anthony's Church and the St. Anthony Parish Community.
Visitation will be held at St. Anthony's Church, (Booth at Gladstone) on Thursday September 6th from 2-4 p.m. and 7-9 p.m. Funeral Mass will be celebrated on Friday, September 7th, 2012 at 11:30 a.m. in St. Anthony's Church.
In memoriam donations may be made to St. Anthony's Church / Peter Scott Memorial Fund which will be used to reconstruct the exterior granite wall of the church.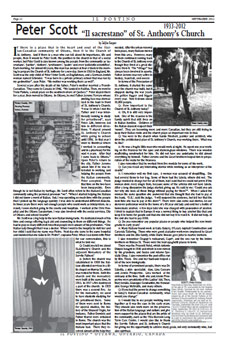 Click the page on the left to read a profile and interview with Peter from Il Postino