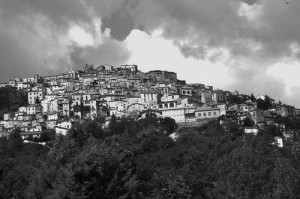 Pretoro, in the province of Chieti, is a town of about 1100 inhabitants, located on a steep hillside on the eastern side of the Maiella at an elevation of 1800 feet. Its proximity to the ski slopes of Passo Lanciano, only 6 miles away, guarantees the availability of winter sports, while the town is also only 20 minutes by car from the Adriatic Sea.The area in which Pretoro is located has been occupied since prehistoric times; remains from that period have been found here, as well as inscriptions in Latin from the Roman era.
The first documented mention of the town is in a 12th century record. Pretoro's name may derive from the word "preta," an earlier form of the word "pietra" or stone. The town stands on a rocky landscape that does not lend itself to farming. Because the town is surrounded by beech-forest, the people of Pretoro have specialized over the centuries in woodcarving. Pretoro is composed of a cluster of stone buildings which climb the steep mountainside; the oldest part of the town is at the highest point, while down below is a newer section.
The most important reminder of Pretoro's past is the 13th century Sanctuary of the Madonna della Mazza, located a little above the town. This was a hermitage built by Benedictine and Cistercian monks from Santa Maria Arabona at Manoppello. An important work of art is the 16th century sculpture of the Pieta preserved in the church of San Nicola. Within the town's territory is a nature preserve, the Riserva Natural Valle del Foro. At one time numerous people of the area carved and sold wooden articles. Traveling on foot along the winding paths
of the Maiella they climbed to the high pastures to furnish the shepherds with wooden ladles and skimmers used in the making of cheese. Even today the tradition of making and selling woodenware continues. The most well known family of woodworkers in the town is the Filoso family, master craftsmen (see photo bottom left of Antonio Filoso in his shop; the photo to the right shows the shop entrance with its four-paned display window).
As in many other area towns, there is in Pretoro, during the Festival of San Domenico, a reenactment of a traditional Christian story, that of "the child carried off by the wolf." The main characters of the drama are a couple who are collecting wood in the forest; they are arguing and do not notice when their little son is carried off by a wolf. The couple despair and invoke St. Dominic, who miraculously pacifies the wolf and saves the child, who is returned unharmed to his parents. This dramatization symbolizes the fear of wild beasts, conquered thanks to the Saint's intervention.