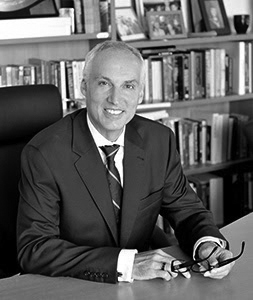 Following an international search, the University of Guelph has appointed Prof. Franco Vaccarino as the University's eighth president and vice-chancellor.
He will succeed President Alastair Summerlee effective Aug. 15, 2014. The announcement was made today by Dick Freeborough, chair of the University's Board of Governors.
Vaccarino is currently principal of the University of Toronto Scarborough (UTSC) and vice-president at the University of Toronto, a position he has held since 2007.
"We had an outstanding slate of candidates from Canada and abroad," said Freeborough, who also chaired the Presidential Selection Committee.
"Professor Vaccarino has had a distinguished academic career and a proven record in organizational leadership. He is a remarkable scholar and educator as well as an accomplished administrator. He has an entrepreneurial spirit, a powerful sense of community and a profound commitment to societal engagement. He clearly has what it takes to lead the University in the years to come."
Vaccarino helped UTSC to grow in size and stature, drawing faculty and students to emerging areas of study and innovative experiential learning opportunities. He also led a strategic planning process that provided a strong framework for campus plans and has helped position UTSC as a key intellectual and cultural hub in the eastern Greater Toronto Area.
Among other positions at U of T, he has served as chair of the Department of Psychology; graduate chair of the tri-campus Graduate Department of Psychology; and head of the Department of Psychiatry's neuroscience program.
He also served as executive vice-president (programs) and vice-president (research) at the Centre for Addiction and Mental Health, and as vice-president and director of research, Clarke Institute of Psychiatry, both in Toronto.
Speaking of his appointment at Guelph, Vaccarino said, "I am extremely proud and humbled to be given the honour, privilege and trust to lead this University.
"Working with a strong community of faculty, students, staff, administrators, board members and alumni, I look forward to building upon U of G's strengths and further developing and promoting its potential for excellence, particularly in food, health, environment and communities."
A widely published and internationally recognized researcher, Vaccarino has received major awards from leading research and scientific organizations, including the former Medical Research Council of Canada and the Canadian Institutes of Health Research. His prominence in the field was recognized by the World Health Organization in his role as the principal editor of its "Neuroscience of Psychoactive Substance Use and Dependence" report. His studies of the neurobiology of stress and motivation are considered a model for bridging the neural and behavioural sciences. He holds a B.Sc. from the University of Toronto and an M.Sc. and a PhD in psychology from McGill University.
"I know that the U of G community will join me in welcoming Professor Vaccarino to campus," Summerlee said.
"He is coming to an incredible place. We have an amazing team of people here at Guelph, and we all share in every success and challenge. Caring for this place and its people is imbedded in our culture."
Summerlee will leave office in June as U of G's longest-serving president. In 2003, he became the first internal candidate to be named president.
During his tenure, Summerlee has been commended for his leadership, and his contributions have been recognized by a number of national and international awards.