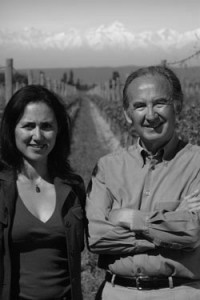 By Domenico Cellucci
Italy in both modern and ancient times played a pivotal role in the development of viticulture. In the last 2 centuries, her sons and daughters have immigrated to every single corner of the world due to many reasons such as war, famine, economics, etc.. The diaspora lead to the spreading of winemaking talent from Italy to many diverse countries.
As I have touched upon in previous articles, Italians have played a major role in the winemaking countries that they immigrated to. We need to look no further than places close to home such as the Niagara region to see the role Italian-Canadians have played in developing that area's wine industry. An even bigger role was witnessed last year, when Il Postino travelled to California.
In this month's column, I would like to touch upon those men and women of Italian origin that were fundamental to the development of viticulture in their new countries. This month I would like to touch upon the Catena family from Argentina.
Nicola Catena emigrated from the Marche region in 1898 and settled in the winemaking area of Argentina called Mendoza. He did not plant Italian varieties but the red variety known as Malbec. The Malbec grape is also an "immigrant". It was brought to Argentina from its French ancestral home in Bordeaux. (Today, in France, little Malbec is grown in Bordeaux and mostly only in Cahors.) The Catena vineyard under the management of Nicola's son Domingo Catena, did very well in the production of Malbec. In time, the family became significant vineyard holders in Mendoza.
Today, Bodegas Catena Zapata, is Argentina's most famous winemaking family. Nicola's grandson Nicolás Catena Zapata is credited with putting both Argentina and the Malbec grape on the wine map. A highly educated man, he is a graduate of the Universidad de Cuyo in Argentina and Berkeley in California. While in California in the 1980's he witnessed the wine growing practices in use at the time. He returned home and modernized the family winery. He began to use French oak barrels, drip irrigation and low yield cuttings. He brought Malbec clones from Cahors, France. Today, winemakers around the world are fascinated by the potential of Argentina's high altitude vineyards: consistent daily sunshine during the day and cool summer nights leading to extremely complex wines. This man was a pioneer in planting Malbec vines at higher and higher elevations.
Today, the Bodegas Catena is run by his daughter Laura Catena, who holds the title of president. Like her father, she is highly educated with degrees from both Harvard and Stanford Universities. She has written about Argentina's wine industry, describing how the country went from producing mostly jug wine to today's best Malbecs in the world. She has continued her father's experiments with the planting of Malbec at higher elevations.
The company has many offerings at the LCBO under three lines at different price points: Catena, Catena Alta and Catena Zapata. Also available in late November at the LCBO is the Catena Zapata Nicasia Malbec grown at an elevation of 3593 feet above sea level. While the company produces wine with different grape varieties such as Pinot Grigio, Chardonnay, and Pinot Noir, it is their Malbec wines that are highly sought after.
When I am having BBQ in the summer, one of my go to wines is Malbec. At the LCBO, I look for the affordable Catena Malbec at $19.95. (LCBO 478727). Good Malbec such as this one is medium to full-bodied, dry and dominated by black fruit such as blackberry and black cherry and also plums. These features give the wine a bit of a jammy note. It is mouth coating and has the same effect as dark chocolate on the palate. Malbec tends to have higher levels of acidity than most new world red wines. Making it a wonderful food wine.
A step up is the Catena Alta Malbec at $49.95 (LCBO 982355). This wine is deep red in colour, almost bordering on opaque. On the nose, you notice right away the complexity of this wine versus the 1st. White and black pepper with some tobacco notes. It is a blockbuster of a wine in the mouth. Full-bodied with tannins that go on forever. The blackberry fruit is even more pronounced on the palate. The wine while spectacular, is well balanced, with a fine amount of acidity. This is what makes Malbec an excellent partner to grilled meats. The tannins and the acidity present in good Malbec stands up to the grilled flavours. For those of you who don't BBQ much in the winter, Malbec is excellent with stews.
The Catena family was important in making Malbec, Argentina's signature grape. With decades of work and experimentation, they have pushed the limits of high elevation wine making. For those of you that have never tried Malbec, I urge you to try some this holiday season.
Grazie e salute!
If you have any questions or suggestions for future columns, please contact me at vinumbonumest@yahoo.com.
Domenico Cellucci is a wine consultant and educator and is a graduate of Algonquin College's Sommelier Program. He puts on food and wine matching events in the national capital area. He has visited wineries and vineyards in Italy, France, British Columbia, Ontario and the United States.