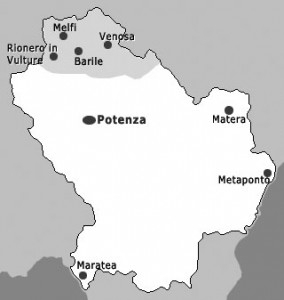 Domenico Cellucci
Dear readers, another year has quickly passed by. I wish each and every one of you a healthy and prosperous New Year. One of the themes, I have touched upon in the last year is the renaissance which is taking place in winemaking in the south of Italy. These southern regions are undergoing a viticultural rebirth by doing an excellent job of promoting their native grape varieties. In this month's column, I am continuing this theme by visiting the spectacular region of Basilicata.
Basilicata borders on Campania to the west, Puglia to the north and east, and Calabria to the south. It is not landlocked having a small shoreline on the Tyrrhenian Sea between Campania and Calabria and a longer shoreline to the southeast on the Gulf of Taranto on the Ionian Sea between Calabria and Puglia. The region is home to an extinct volcano by the name of Mount Vulture. Its last eruption took place over 40 000 years ago. This area with its volcanic soils plays a leading role in the region's viticulture. It is one of Italy's most mountainous regions with over 47% of the region covered by mountains. The area's interior is cooler therefore having a continental climate while the coastlines are more moderate have mostly a Mediterranean climate.
As with many areas of Italy, the Greeks brought vinification techniques and grape varieties to Basilicata. In ancient times, the area was called Lucania from the word lucus meaning forest in Latin. In fact, the area before the arrival of the Romans was covered by forests. When the Romans arrived in the 3rd century B.C., forest were cleared to provide materials for construction. Along with forests, vineyards were a casualty. However, a grape planted on the slopes of Mount Vulture survived. The name of this grape is Aglianico del Vulture. The origins of this grape are still hotly debated. The leading theory has that the Greeks planted the grape on the slopes of Mount Vulture since the word Aglianico is derived from the Greek word for the grape: ellenico. Some others theorize that the grape was brought by the Aragones during Spanish rule in the middle ages. Others historians feel that the grape is native to Italy and that the Greeks were the first to realize its potential. Regardless, Aglianico today is Basilicata's principal wine. Grown in the northern part of the region around Mount Vulture, Aglianico gained DOC status in 1971 and DOCG status in 2011. It is Basilicata's only DOCG wine. Aglianico is also located in Campania. Both regions claim to be the grape's homeland.
Mount Vulture provides high altitudes for the production of Aglianico. Typically, most vineyards are situated between 450-600 meters above sea level on the eastern lower slopes. Some of the best Aglianico wine is made around the towns of Rionero, Barile and Melfi that surround these slopes. The high altitudes typically will lead to a late ripening grape. Harvest usually takes place in late October/early November. In viticulture, wines produced at these higher altitudes produce wines of great complexity. Daytime temperatures in the summer provide the wine with concentrated flavours. Allowing the vines to cool down at night, allows the grape to retain acidity. Throw in the volcanic soils with their high levels of potassium and you can see why Aglianico is such a special wine. Visually, it has a dark ruby red colour. It is typically full bodied with high levels of tannins. These 2 traits have lead wine aficionados to call this wine the Barolo of the south. It has excellent aging potential. These wines can be kept for 10-20 years easily. Aging takes place in large chestnut casks. However many producers are making Aglianico in a modern style using French barriques. Aglianico that has been aged at least 3 years prior to release is called vecchio. While those that have been aged for at least 5 years are called riserva. Both types of aging include 2 years in wood. The wine is extremely rich and principal aromatic notes are chocolate and cherry in its youth along with plums and some dried fruit. Because of the high tannins, it is recommended to let this wine age for at least 5-10 years. With aging, the wine becomes more complex and flavour profiles turn towards earth, spice and tobacco. With its higher levels of acidity it is definitely a food wine. It is not a summer sipper of wine! Decant the wine for at least an hour before serving it. Pasta dishes in Basilicata such as lasagna and beans work well with younger versions of Aglianico. Save your older bottles of Aglianico for spezzatino di agnello, a specialty in Basilicata.
Historically, the two largest and best known producers have been Paternoster and D'Angelo, in existence since the 1920's. Other principal producers making inroads today are Elena Fucci and Cantine del Notaio. The wines of D'Angelo are affordable and are available at the LCBO. While in Quebec, the wines of Cantine del Notaio are available in limited quantities. Besides these 2 producers, the presence of Aglianico del Vulture is limited in the Ottawa-Hull area. If you come across them, I highly recommend you pick some up to enjoy today and tomorrow…
Grazie e salute!
If you have any questions or suggestions for future columns, please contact me at vinumbonumest@yahoo.com.
Domenico Cellucci is a wine consultant and educator and is a graduate of Algonquin College's Sommelier Program. He puts on food and wine matching events in the national capital area. He has visited wineries and vineyards in Italy, France, British Columbia, Ontario and the United States.