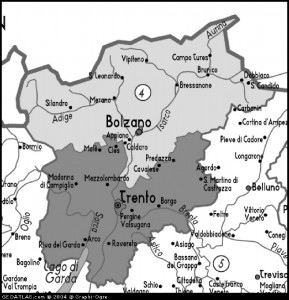 by Domenico Cellucci
This month's column deals with one of Italy's least known wine regions: Trentino-Alto Adige. It is recognized as a producer of quality grappa and sparkling wines. Lately, the area is producing some of Northern Italy's best still wines. As the hyphen suggests, the region consists of 2 areas: Alto Adige, or Sud Tirol as the locals call it, and to the south, Trentino. While part of one region, the history and wines of the 2 areas are quite different. Alto Adige which borders Austria and Switzerland was part of the Austro-Hungarian Empire and the Holy Roman Empire and was only ceded to Italy after World War 1. It is officially bilingual: Italian and German. The Austrian and German influences can be found in its cuisine and winemaking. Trentino as well, was part of the Austro-Hungarian Empire but it is almost entirely Italian speaking. It borders Lombardia and Veneto. Many of its influences hail from Verona and the region of Lombardia.
It is Italy's most northern wine region. At 46° N latitude, it shares the same latitude as Ottawa and is located north of our own wine growing region of Niagara at 43° N latitude! Therefore, it can be considered a cool climate area. However there are many differences in terms of climate in the region because of the presence of mountains and the Adige River. The valleys that surround the river and its tributaries are where you will find the region's vineyards. Depending on the position of these valleys, they will either have a Mediterranean influence with hot summers and mild winters or continental influence with warm summers and cold winters. The warmer valley floors are home to the region's reds, while at the higher elevations, you will find some wonderful and complex whites.
The region of Trentino-Alto Adige does not produce any DOCG wines. However, over 80% of its wines are classified as DOC wines, the highest percentage of any region in Italy. The wines produced here, reflect the region's linguistic makeup. In Alto Adige, wines of German and Austrian origin dominate: Müller-Thurgau, Riesling, Grüner Veltliner and Gewürztraminer . Also important are wines of Italian origin: Pinot Grigio, Pinot Bianco, Lagrein, Schiava, and Moscato. French varietals lately have met with some success, with grapes such as Sauvignon Blanc, Cabernet Sauvignon, Cabernet Franc, Merlot and Pinot Noir. Chardonnay has been present for over a hundred years, and is used extensively in the region's sparkling wine industry. It is in fact, Italy's largest producer of Chardonnay. Travelling south, in Trentino, the white grape Nosiola, is the most important. It is used in the production of a wonderful dessert wine called Vino Santo using the partially dried Nosiola grapes. A fragrant still wine is also made using this grape. Amongst the reds, 2 indigenous grapes are at the forefront: Marzemino and Teroldego (which is starting to break into international markets). International varieties include Müller–Thurgau, Cabernet sauvignon, Merlot, and Cabernet franc. Other interesting differences to be noted are how the winemakers are organized. In Trentino, cooperatives abound with Cavit, playing the major role. In Alto-Adige, you have many small, family run producers.
For those of you that enjoy Pinot Grigio from Friuli, I suggest you try an example from this region. You will be quite surprised with the aromatics. Following on the food theme, another white to try from this region is Gewürztraminer . It is the best white wine to pair with Asian food in my opinion. Another food friendly wine from this area that has found a home in this alpine paradise is Pinot Noir. They are not as fruity as the Oregon or California versions, but what they do possess is a stream of acidity which will match well with food. Sparkling wine using the methode champenoise has been present in the Region for over a hundred years. The top producer in the area is Giulio Ferrari. His sparkling wine is medium to full-bodied and can be enjoyed throughout a meal. The red wine Schiava is the most common in terms of plantings. About 40% of vineyards are planted with Schiava. It is a light, easy drinking red wine which some compare to Beaujolais. For those of you that want a more powerful red, Lagrein and especially Teroldego are some wines to try. Lagrein is highly tannic, needing oak aging to soften it up. The colour is deep ruby red with some purple hues. Teroldego is becoming increasingly popular outside the region. The wine is of a dark opaque colour. Berry aromas, such as blueberry, blackberry and cherry dominate. On the palate, you have plum and herbal notes. It is medium-bodied and not as tannic as the Lagrein. The best producer is Foradori. Other important producers in the region are the aforementioned Cavit, Mezzacorona, Abbazzia di Novacella and Lageder.
September and October saw the release of 2 wines made from the Lagrein grape at the LCBO: Andrian Rubeno Lagrein 2009 for $12.90 and Nals Margreid Lagrein 2010 for $17.95. These are excellent wines available at affordable prices. Also available at the LCBO are the Mezzacorona Pinot Grigio. For only $12.95 you get a wonderful crisp, white wine that works well as an aperitif. Back in May saw the release of the Foradori Granato Teroldego 2007 for $59. This is a very complex red wine, which is capable of aging nicely. It combines both fruit and spice aromatics. Acidity and tannins are in perfect harmony on the palate. It is medium-bodied and you will notice the use of some oak on the finish.
Trentino-Alto Adige has come a long way from being solely a producer of quality grappa and sparkling wine. It is producing some of Italy's most unique and affordable wines. Give them a try. You won't be disappointed.
Grazie e salute!
If you have any questions or suggestions for future columns, please contact me at vinumbonumest@yahoo.com.
Domenico Cellucci is a wine consultant and educator and is a graduate of Algonquin College's Sommelier Program. He puts on food and wine matching events in the national capital area. He has visited wineries and vineyards in Italy, France, British Columbia, Ontario and the United States.