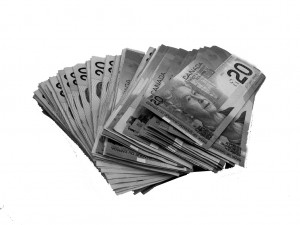 By Dosi Cotroneo
There wasn't a lot of fanfare and I can guarantee there were no bells or whistles, no pony rides, no confetti, and definitely no tooting horns and no marching band. As per tradition, it was business as usual at my house once again this year as my birthday falls smack dab in the middle of the dreaded "back to school" week.
In fact, it was rather reminiscent of most Mother's Days – no cards, no elaborately wrapped gifts, no bouquets of roses delivered to my door, no singing telegrams, and no sign of breakfast in bed. I ask you, what does a wife and mother have to do to get a little bit of affection, attention, appreciation, and an envelope stuffed with cash on her birthday?
I've always been a fan of "the busta". It's what I call the "no-fail" gift. Who in their right mind is going to argue with cash? No need for fighting traffic, looking for a parking spot, pushing through crowds at malls, and searching endlessly through expensive jewelry stores of "that perfect gift". I'm really starting to believe that I must be the easiest person to not only live with, but to please on festive occasions.
So what if my birthday just happened to fall on the same day as the nuptials of my cousin's son and his bride? What would it have taken for the family to fill out two cards, and stuff another busta while they were already at it? Don't they realize by now how much I appreciate good old fashioned cash? No need for gift receipts, explanations at customer service desks, and phony smiles, polite "thank you" and "I really do love it" routines. A simple envelope stuffed with some twenty's, fifty's and hundreds will really suffice for this self-less Italian wife and mother who has dedicated every waking moment, and many sleeping ones too, to her husband and young brood.
I firmly believe that as a woman embarks on her fourth decade (okay, maybe the middle of her fourth decade), the family should know by now that this type of momentous occasion deserves celebration, attention, and of course, currency. For most women, a birthday celegbration indicates an enormous milestohe, a rite of passage into the next phase of womanhood. Yes, we have so much to look forward to – pre-menopause, peri-menopause, menopause, followed by post-menopause. Of course one mustn't forget the arrival of fine lines, crows feet, and an overall loss of elasticity of the epidermis. If these aren't reasons enough to toss a few c-notes to good old Ma, then I have failed as a mother. Yes this year, I decided to take a fresh approach to my birthday, and throwing caution to the wind, I decided that I will remain a "twenty-something year-old" for the rest of my days. Husband thinks this is the sign of an impending "mid-life crisis" and presented me with the business card of a reputable life-coach/councilor/therapist, and the children are worried that I may resort to my '80's spandex aerobicwear, headbands, leg warmers, and big hair. Their fear turned into my favor as they handed me "a hefty busta" begging me to turn down the Duran Duran music and to remove the thong from overtop my leotard.
For $300 bucks, I agreed. Afterall, I am a dearly devoted Italian wife and mother, and the only thing that I truly live for, is pleasing my family, even on my birthday.