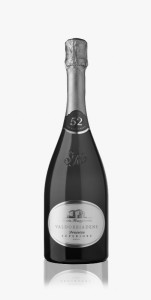 di Domenico Cellucci
As we start a new year, let me take this occasion to wish each and everyone a very Happy and Prosperous New Year. As well, thanks to all of you for the super feedback you have provided me in the last few weeks. I appreciate it.
With another New Year's Party over, it's time to clear out the empties and get them recycled. Among the empties, I am sure there was a bottle or two of Prosecco this year. Prosecco is an Italian White wine produced as a dry or extra dry sparkling wine better known as spumante. Or it can be produced as a semi-sparkling wine or frizzante. Some prosecco in small quantities is used to make a still white wine.
The consumption of Prosecco has risen dramatically over the last 5 years outside of Italy. It's hard not to see why. It's light, low in alcohol, compared to other sparkling wines and very affordable, compared to Champagne. Prosecco is also very flexible. In Italy, it is used for all occasions. While outside of Italy, it has caught on as an aperitif and is the principal ingredient in the Bellini Cocktail, a mixture of puréed peaches and prosecco. It can also substitute champagne in other mixed drinks like the mimosa or poinsettia.
Prosecco is produced in the Veneto and the Friuli Venezia Giulia area of Northern Italy. The majority of Prosecco production occurs near the towns of Conegliano and Valdobiaddene in the province of Treviso. Prosecco wine from this area is classified as a Vino a Denominazione di Origine Controllata e Garantita (DOCG). What this means is that only wines from this area can be called Prosecco. As well, DOCG wines must follow stringent guidelines in terms of where wine is
produced. Wine must be produced in specific and well-defined regions. Yields must be kept low to ensure quality. And finally, all DOCG wines must be evaluated by a tasting committee before they can be bottled.
Prosecco wines are made principally using the glera grape (often referred to as prosecco as well). The sparkling wine version is produced using the Charmat Method whereby secondary fermentation takes place in large stainless steel tanks and is later bottled under pressure. Champagne is produced using the methode champenoise where secondary fermentation takes place in the bottle with the addition of some grams of yeast.
Prosecco tends to be fruity, with an emphasis on citrus, pear and apple notes. On the palate it's medium body and crisp, clean with a refreshing acidity and a dry finish. Prosecco is not meant to be aged. It should be enjoyed two to four years after production.
As I mentioned, Prosecco is a very flexible wine. I enjoy a glass of Prosecco as an aperitif. But it is also works well with food. The acidity in the wine stands up well to pastas with cream sauces. In the Veneto region it is often consumed with seafood, especially shellfish such as shrimp and mussels.
Two examples of Prosecco that are available at the LCBO are SantaMargherita Brut Valdobbiadene Prosecco Superiore and Distelleria Bottega Vino dei Poeti Prosecco Superiore. The Prosecco from Santa Margherita I especially enjoy as an aperitif. It has citrus notes of the grapefruit and lemon variety with a generous amount of tiny bubbles. It's crisp and fresh and prepares the palate for the culinary adventure to follow!
The Prosecco from the Distelleria Bottega Vino dei Poeti is drier and more complex than the one produced by Santa Margherita. It has more of the apple and pear notes. On
the palate it has mouth-watering acidity and a clean and dry finish.
Your friends from Spain will be amazed at how this works well with paella!
Grazie e salute!
If you have any questions or suggestions for future columns, please contact me at vinumbonumest@yahoo.com.
Domenico Cellucci is a wine consultant and educator and is a graduate of Algonquin College's Sommelier Program. He puts on food and wine matching events in the national capital area. He has visited wineries and vineyards in Italy, France, British Columbia, Ontario and the United States.