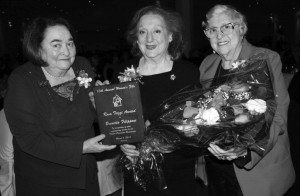 By Enza Baiamonte Photos by Giovanni
The Ottawa Italian Women's FILO is an Ottawa based organization founded in 2003 by two women, both of whom are integral in promoting Italian Heritage in the Ottawa community: Anna Chiappa (presently Co-chair) and Ariella Hostetter (previous Chair). It commenced with an idea of having a celebratory dinner in honour of two women who made a difference in their community. Over the following years, a committee was formed and it became an organized and annual event.
The Ottawa Italian Women's FILO Committee comprises of nine unique women: Angela Ierullo(Co-ordinator), Anna Chiappa (Co-founder), Bonnie Favilla, Silvana Timpson, Irene Martin Donofrio, Natalina Dinardo, Rita Cuccia, Cristina Perissinotto & Enza Baiamonte (Co-Chair). This group of women draw out the strengths in one another while working together to accomplish one goal. They bring forth many talents and volunteer their time to promote and celebrate the accomplishments of inspirational Italian Canadian women with the community.
In the fall, an invitation along with a form seeking nominations for the awards and a letter requesting participation either as a guest or as a sponsor is mailed, emailed and even hand-delivered throughout the city of Ottawa by the committee members. Advertisements also appear in local newspapers, church bulletins, CHIN radio & televised on Tele-30.
The awards were established in honour of Maria Ierullo, Jennie Prosperine and Rosa Tiezzi who represent women who assisted numerous Italian new comers to Ottawa through their pioneering spirit. They were also fundamental in forging new roles for women in the Italian Canadian Community of Ottawa. There are three categories for which the awards are given. The Maria Ierullo Award is given to a woman for her outstanding service to the community at large. The Jenny Prosperine Award is given to a woman for her outstanding social service to the community and the Rosa Tiezzi Award is presented to a woman for her contributions to the community by promoting Italian culture.
Nomination forms are submitted along with additional letters of support to one of the committee members. Then, the nominations are forwarded to an independent group of women who are not affiliated with the FILO for the selection process. The recipients of the awards are announced the night of the FILO event with a presentation by the families, who sponsor the awards, in honour of the women for whom the awards were established.
This year we are celebrating the 10th Annual FILO Gala to be held at the Centurion Conference & Event Centre, 170 Colonnade Rd South, Ottawa. Preparations for this event began at the end of last year's event. A theme is usually evoked during one of the meetings and then the organization begins.
The FILO Gala commences with a musical interlude provided by Pat Adamo, (featuring two local female musicians), cocktails & hors d'oeuvres provided by Tony & Grace Mariani & Family during the reception. A delicious dinner follows while the guests enjoy a Silent Auction, a fabulous Guest Speaker, the highlight of the evening – the presentation of the three awards, and also great door prizes. Over the past few years, proceeds of the Silent Auction have been shared with Parolissima (an Italian spelling-B for Elementary students), Tele-30 (the local Italian television program) and the Maplesoft Centre (a newly established Cancer Survivorship Care Centre).
The committee members are fundamental in obtaining support from the community at large. It is with the assistance of significant contributions which facilitates in rendering such a successful annual event. Our Platinum sponsors this year include The Centurion Conference & Event Centre (providing excellent service with a beautiful ambience), Kelly's Funeral Home (gracious, annual supporter) and LaViolette Flowers & Wedding Décor (transforming the banquet facility into an elegant reception area). Additional major sponsors this year include: Airmetrics Energy Services Inc./Il Postino (for their support since the beginning); Davidson's Jewellers/Bonnie Favilla (annual sponsors & this year, generously contributing a beautiful necklace valued over $2,000.00; L'Elenco Telefonico Italiano/Corrado, Rosalba & Lina Nicastro (annually featuring the FILO recipients); Masi Wines (donating a bottle of wine at each table to be won the night of the event); Retire-At-Home Services/Irene Martin (annual generous sponsor); Suite Dreams Home Emporium/Lucia Frangione & Enza Baiamonte  embellishing the evening with creative ideas and unique prizes & decor); Tele-30/Giovanna Panico (past FILO recipient) for doing her utmost in televising & promoting this annual event;
Cupcake Fairy has designed our cupcakes for the past 2 years, what a treat; Goodlife Fitness (College Square) has surprised the FILO with a major contribution this year (a wait and see surprise); CHIN radio has been a supporter for our community at large and we thank them for including the FILO. We are truly grateful and sincerely thank many other individuals and organizations who generously participate in enhancing the outcome of this event.
There are many Italian Canadian women who donate their time and contribute to many events and causes within the community at large. Many are too humble and hesitate in accepting recognition for all that they do. However, it is only by identifying and singing their praises that inspire others to reach out and share their passions. It is with great honour that we celebrate both past and 2012 FILO recipients for their achievements this year on Thursday, March 8th, 2012 – International Women's Day at the Centurion Conference Centre.
The Annual FILO has become a remarkable event for women of Italian heritage. Bringing together over 350 women, it has become an evening of song (with the FILO choir), laughter, story-telling and ultimately recognition of deserving female role models in the Ottawa Italian Community.