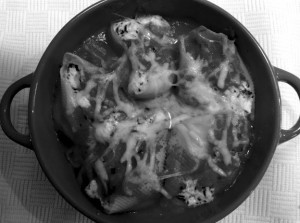 By Jerry Buccilli
If you come from a big, crazy Italian family like ours I am sure you can relate on how hectic day to day life can become. So many things on the go. So many things to do. As much as you'd like to have more time it's just not feasible. That's why this recipe is perfect. Easy to make with not a lot of fuss and in the end you can make enough to have leftovers for two or three days. (Nothing wrong with leftovers so long as you follow proper storing procedures).
This recipe for Conchiglioni literally means "sea shells" and its name is derived from the shape of the pasta you will use. There are many variations to this dish depending on what part of Italy you come from. The funny thing about Italy is how controversial the topic of food can be. One person's recipe from the north can vary astronomically from the same dish made in the south.
This recipe is the one we use every day. Keep in mind that you can get pretty creative with it. In Sicily they add raisins and green olives to the mixture. In Abbruzzo they add ground pork. Have fun with it. We tried to keep this recipe simple. Generally if you go to your local Italian eatery and ask for stuffed shells you'll likely get this version.
Try out this recipe first and then build on it. It's fun to experiment. Buon Appetito!
Conchiglioni – Spinach and Ricotta Stuffed Shells
Serves up to 10 (serving size is 3 stuffed shells)
30 jumbo pasta shells
2 tablespoons extra virgin olive oil
3 cups of home-made marinara sauce
3 cloves of garlic
2 tablespoons of olive oil
filling:
2 cups spinach, sautéed, drained and chopped
2 cups ricotta
1 cup of Parmesan cheese, grated
2 eggs, lightly beaten
salt and pepper taste
Preheat your oven to 350°F and bring a large pot of water to a boil. Once the water is ready, add the pasta, as well as a generous amount of salt, and stir. Cook the pasta until al dente, about 15 minutes. This is key! If you overcook the pasta it will break up in your hands when you try to stuff them. Drain the pasta and set aside.
Sautee spinach with olive oil and garlic. Once sautéed, let rest, drain off excess oil and chop. Pour the marinara sauce into an 11"x 20" baking dish and move around to form an even coat. In a mixing bowl, combine the filling ingredients and stir together well. Season together with salt and just a pinch of pepper.
Using a spoon, scoop a small amount of the filling and stuff into a pasta shell. You can use a piping bag or even a Ziploc bag. My Mamma and Nonna used just a spoon and it works just as well. Nestle the stuffed shell into the baking sheet and repeat with the remaining shells until the baking dish is filled. Top the baking dish with mozzarella and some additional marinara.
Tightly cover the baking dish with aluminum foil and bake for 30 minutes. Remove the foil and continue to bake for an additional 10 minutes or until the mozzarella begins to bubble and lightly brown. Remove from the oven and rest for 5 minutes before serving.
Jerry Buccilli, is a 2nd generation Italian living in Niagara Falls, Ontario. He currently owns and operates Zeppoli's – Italian Comfort Food, a catering company specializing in Italian regional cuisine. www.zeppolis.ca