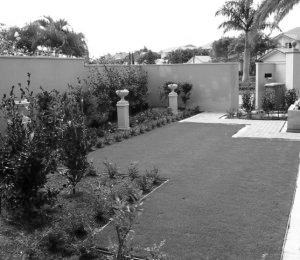 By Dosi Cotroneo
Today, during my daily period of reflection, I made a sad realization – there are only 24 hours in a day and only two hands for me to accomplish all of the projects I inspire to start, let alone finish. For example, having resided in our present abode for some 17 years, there is still much work to be done to bring the home up to date, not only design wise, but décor wise as well. The shed needs to be painted, a deck needs to be built, the kitchen needs remodeling, the basement needs finishing, and of the utmost importance, the property is crying out for landscaping. Did I mention that beloved husband is a landscaper, horticulturist, arborist, and artist?
Yes, according to his "clients", he is an artist – a man that can create masterpieces out of sod, interlock pavers, shrubs, trees, annuals and perennials, with only his imagination and his "two bare hands." If I had a dollar for every garden tour the artist has taken me on, proudly displaying his master works, introducing me to satisfied clients who sing his praises in my ear while I grind my teeth in silent anger, I'd have enough money to have the entire neighbourhood landscaped. I've heard it time and again from family, friends, even passersby – "the cobbler's children have holes in their shoes."
As a patient, compassionate, and loving spouse, I have yet to pressure the artist about "when" his masterpiece will begin to take shape. Far be it from me to be "one of those wives" who makes a daily practice of nagging, reminding, and threatening. Rather, I take a more passive approach that helps me deal with the artist in a non-violent manner. In a word – shopping. After some 26 years of holy matrimony, the shoe and purse collection is nearing completion. As a result, I've calmly suggested that he use his beloved shed as a large closet for his belongings. Afterall, how many pairs of faded jeans, white t-shirts, and construction socks can one man own? In my opinion, this serves as the most practical solution considering my things have literally taken over his side of the walk-in, and the shed is only housing shovels, rakes, and piles of lumber.
As much as I'd love to use the lumber for kindling, it does serve a valuable purpose. During the winter months, a strange phenomenon happens. Suddenly, our prairie-inspired property becomes the envy of the entire neighbourhood, if not the entire town. An NHL regulation size hockey rink takes over, as do avid hockey enthusiasts of all ages, and at all times of the day or night. That being said, I literally reach celebrity status during the months of November through to March, all because of husband's winter pet project and Canada's love of hockey.
But come Spring, the envy of the neighbours wears off as quickly as the snow melts, only to reveal the truth of what lies beneath the protective blanket of winter. After some 17 years at our current address, our property boasts many lovely trees that he has planted (with his two bare hands). At least two dozen of his personal favorites – Colorado Blue Spruces, Century Maples, his beloved Gingko, the Ohio Buckeye, the Japanese Lilac, and the three maples he planted for each of our children. There is also a lovely mountain of topsoil piled high beside his beloved shed, adjacent to his hundreds of prized hot pepper plants, but what is really missing, what is really needed on this property, are the nuts and bolts of landscaping. Simply put, a meandering pathway that doesn't tilt, a stone patio for summer barbeques, a fire pit for fall marshmallow roasting, a pagoda beside the Japanese Zen garden, a Japanese Zen garden, a babbling brook filled with coy fish, a rose garden with an arbour, and a deck that can accommodate more than one person at a time.
And so it is mid-August as I write this, and as this is supposedly the summer the artist brings his blank canvas to life, I must confess, I remain doubtful. With the help of my Zen teacher, I will continue to react in a non-violent manner, pretend to listen to his grand plans of water features, outdoor kitchens, and a patio the size of that NHL regulation hockey rink, pour myself another double vodka cranberry martini, dust off his favorite bedside reading books, "Practical Pruning", "The Garlic Lovers Bible", "Prize-winning Hot Peppers", "The Garden Pond", "Great Gardens of Europe", and tune into to the Home Shopping Channel. Today's showstopper: Italian designer leather purses. Perfect.