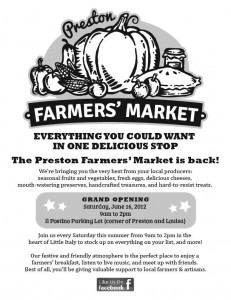 Pam Kapoor
Residents of Little Italy and surrounding neighbourhoods will be able to enjoy the convenience of a handy farmers' market this summer. The Preston Farmers' Market celebrated its grand opening on Saturday, June 16th as Italian Week came to a close.
Billing itself as "100% purveyor-powered", the Preston Farmers' Market features fresh produce & meats, hand-roasted coffee, sweet treats, handicrafts, and more courtesy of local farmers, producers, and artisans.
"Our aim is to provide a one-stop experience where folks can enjoy a hearty farmer's breakfast, do some shopping, and commune with friends," said Kelly Butler, market manager. "We like helping busy people start the weekend off on the right foot."
Leela Ramachandran of Chelsea Gardens cites relationships as a key reason for signing on as a Preston Farmers' Market vendor: "We all believe strongly in fostering sustainable connections between producers and consumers, and the market is small enough that we can really get to know each other."
It's that community spirit that brought the Preston Farmers' Market to life again this summer. After a successful run last year as an initiative of the Preston BIA, Preston Farmers' Market vendors & supporters were disappointed when news came in late spring of the market's cancellation. What happened next was as organic as the produce featured in its stalls.
Vendors banded together to bring the market back, Il Postino offered its parking lot, and members of the community came forward to lend a hand. From graphic design to marketing to coordination, offers of time and talent poured in from all directions to resurrect the Preston Farmers' Market. Area residents were so enthused about the market's return that they pitched in to post flyers around town to promote its grand opening.
"Response from the community has been overwhelming," Butler added. "The desire for a neighbourhood market has translated into tremendous support for what we're doing."
"Organic" and "local" are more than just buzz words for Preston Farmers' Market: it features a "community matters" booth for skills sharing, a farmer's breakfast special (just $6) that encourages visitors to circulate through the stalls, plus live musical talent as often as possible.
With the Preston BIA's newest venture, Il Mercato, just two blocks away, Butler says everyone involved with Preston Farmers' Market is enthusiastic about the multiple attractions in Little Italy: "This is a vibrant, exciting part of Ottawa. With so much to experience here, we hope visitors will make a day of it."
What:  Preston Farmers' Market
When:  Saturdays from 9am – 2pm, until Thanksgiving
Where:  The Il Postino Parking Lot (corner of Preston/Louisa)
Who:  Bekings Poultry Farm, Chelsea Gardens, Clarmell Farms, CleanHandsWarmHands, A Curious Collective, Face to Grace, Foster Family Farm, Hall's Apples, Heavenly Honey, Helios Farm, IndieGo Designs, Jirah's Garden, Le Michel Ange, Meeka's Creations, Meow! That's Hot, Morsel, Nishin Da Skin, Purple Urchin, Riverglen Biodynamic Farm, Souria Products, Suzy Q Doughnuts, The House of Bubbles, The Joy of Gluten Free, The Town Fryer, Upper Canada Heritage Farm, Yummy Cookies
For more information, visit the Preston Farmers' Market on Facebook: http://www.facebook.com/PrestonFarmersMarket
Pam Kapoor is a communications consultant & freelance writer based in Gatineau