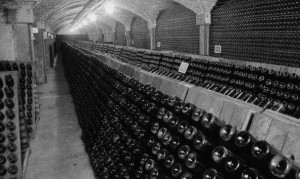 di Domenico Cellucci
Recently a reader asked me about Prosecco and Asti and which of the two I preferred. I appreciate both of them and think they are both wonderful wines. However one sparkling wine that doesn't get much attention outside of Italy is Franciacorta. This is a sparkling wine that in my opinion can hold its own in terms of complexity with champagne and other sparkling wines from around the world.
It is produced in Lombardia in the province of Brescia. More specifically, the vineyards are located just south of Lake Iseo in the territory of Franciacorta. The soil in this area is mineral rich with the presence of gravel, (required for proper drainage) and clay and sandy soils over a limestone bedrock (this imparts wonderful traits to the final product). The region enjoys mild winters and hot summers.  The area produces both white and red still wines as well. But it is the complex sparkling wine Franciacorta, which it is best known for. Sparkling wine is produced in many regions of Italy. However, only Franciacorta is produced using the same method as Champagne: Méthode Champenoise or Metodo Classico in Italy. With this method, primary fermentation takes place in the bottle. After which a second alcoholic fermentation occurs in the bottle by adding several grams of yeast.  The bottle is capped with a crown cap and then aged in underground cellars at a constant temperature of 13ºC. Aging, depending on the style, must be a minimum of 2 years and can be up to 3 years. The grapes used are like champagne:  namely, Chardonnay, pinot noir and pinot bianco.
Because of strict production standards, the sparkling  ranciacorta was elevated to DOCG status (denominazione di origine controllata e Garantita) in 1995. The province has a rich history of wine making. In fact there are references in the writi ngs of Columella,  Pliny the elder and Virgil about the wines of this area. Wines with some effervescence have a long history in the province of Brescia. In 1570 a Brescian physician by the name of Geronimo Conforto wrote a book by the name of Libellus de Vino Mordaci in which he describes the wines of this area. He called these light fizzy wines "mordaci'.  These wines are Franciacorta's ancestors.  Fast forward to 1961 and a young winemaker by the name of Ziliani reviews the book and decides to make a sparkling wine using the metodo classico.  When Guido Berlucchi, the owner of the estate, where Ziliani worked, tasted the wine, he knew he was on to something special. That first production consisted of 3000 bottles. It was extremely successful and production took off in the years to come.  Today annual production is almost 13 million bottles produced by 200 growers in a vineyard area of 1500 acres.
Like Champagne, Franciacorta comes in many styles:  a dry extra-brut, brut, rosé, sec (less dry than the Brut), and  Satèn (made only with white grapes, namely Chardonnay). Visually it is of a pale straw colour with small bubbles, which is an indication of a well made sparkling wine.   On the nose you can expect citrus and bread notes. (This is a remnant of the dead yeast from the bottle during aging.) The froth or mousse is very creamy.  On the palate, it has a good level of acidity with berries and green apples at the forefront.   The finish is long and lingering.   It should be served at 6-8 ºC.  While it can work as an aperitif, (especially the extra brut) I believe it excels as a very friendly food wine.   The province of Brescia is warmer that Champagne in France.   This gives, in my opinion, Franciacorta a richer more fuller body than Champagne, increasing the number of dishes you can match it with. Enjoy it throughout the meal: start off with an eggplant caponata, followed by a fish based risotto and than a sea bass with potatoes, olives and capers.
So why is Franciacorta not as popular or well known as Champagne? Well, Champagne had a 300 year head start and is a powerful marketing machine. In terms of specific producers, I appreciate the wines of Bella Vista and Ca' del Bosco. Presently Franciacorta is not listed at the LCBO. There are a few wine agents in Ontario that supply clients and restaurants. However, you can find these wonderful and complex wines in Quebec at certain SAQ stores.
Salute and happy St. Valentine's Day!
If you have any questions or suggestions for future columns, please contact me at vinumbonumest@yahoo.com.
Domenico Cellucci is a wine consultant and educator and is a graduate of Algonquin College's Sommelier Program. He puts on food and wine matching events in the national capital area.  He has visited wineries and vineyards in Italy, France, British Columbia, Ontario and the United States.