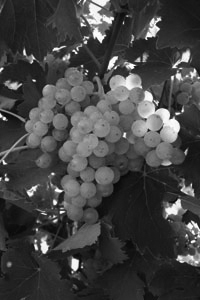 Domenico Cellucci
Italy has sent her sons and daughters to the four corners of the world for centuries. Italian emigration in the 18th and 19th centuries was especially substantial. Even before the country we now know as Italy was united, its inhabitants traveled the world to spread culture. In terms of winemaking the Romans spread viniculture throughout Europe and North Africa. However, if we look at the spread of viniculture in more modern times, we look more towards France than Italy…
No country in modern times has played a more important role than France in the spreading of winemaking. Her grapes have 'immigrated' to every continent where winemaking is possible. The grapes from the region of Bordeaux have been especially successful at emigrating abroad. California today produces top notch Bordeaux varieties. In South America, Malbec has found a home in Argentina. Tannat has done especially well in Uruguay. While Carménère has thrived in Chile. And there are countless other examples such as Sauvignon Blanc in New Zealand, shiraz in Australia and Chenin Blanc in South Africa. Not to mention Burgundy's Pinot Noir, which is grown in many other countries, including Canada.
While Italy can claim to have the most grape varieties in the world, (around 3500) they have not had the same success in 'emigrating' abroad as the French varieties. This is surprising given the millions of Italian immigrants throughout the world. Many argued that Italy's grape varieties were extremely sensitive to terroir and could only be produced in Italy. Others claimed that winemakers outside of Italy were not capable of handling these grapes.
However, in the last 20 years, many countries around the world are experimenting with Italy's indigenous grape varieties and are being rewarded with success. Australia has done well with red grape varieties from Piemonte such as Barbera, Dolcetto and Nebbiolo and has obtained excellent results with the white grape called Arneis as well. In South America, Argentina has produced Piemonte's Bonarda for decades. In California, wineries such as Sebastiani and Martini had some success with Barbera as far back as the 1960's. But it wasn't until the 1980's that wineries began to experiment with Sangiovese and achieved excellent results. Today there are dozens of wineries in California working successfully with Italian varietals.
Recently I attended the California Wine fair and discovered a grower that is entirely dedicated to Italian Grape Varieties: Uvaggio. This California producer is located in Lodi in the Northern Portion of the Central valley in San Joaquin County. It produces four wines at the moment: Barbera, Moscato (secco), Vermentino, (available at the LCBO) and Primitivo. It has in the past also made wine with Arneis, Nebbiolo, Sangiovese and a Vin Santo. I met winemaker, Jim Moore from Uvaggio. I was curious about the name which I found out means 'blend' in Italian. According to Jim Moore the wines are meant to be enjoyed with food. They are crafted with low alcohol levels. While the wines I sampled are an accurate representation of the varietal character, I was impressed with the balance that the wines displayed. Acidity, fruit and tannins were all present but did not dominate the palate. The wines are quite approachable and offer excellent value. One of my favourite grape varieties is Moscato. It has a distinct floral aroma which actually smells like grapes. The Uvaggio Moscato Secco I sampled was an eye opener for me. A wonderful honey, orange aroma greets you at first. On the palate it was quite rich and medium bodied. The finish was quite polished, smooth and dry. This wine would work well as an aperitif or with would stand up to chicken or pork dishes.
Grazie e salute!
If you have any questions or suggestions for future columns, please contact me at vinumbonumest@yahoo.com.
Domenico Cellucci is a wine consultant and educator and is a graduate of Algonquin College's Sommelier Program. He puts on food and wine matching events in the national capital area. He has visited wineries and vineyards in Italy, France, British Columbia, Ontario and the United States.