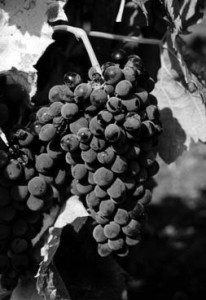 By Domenico Cellucci
One of the more interesting success stories in the viticulture of Southern Italy and in Italy in general is the renaissance of Sicilian wines. This wonderful region boasts more vineyards than any other Italian region. It produces the same amount of wine as Australia. It is today, in my estimation, one of Italy's most progressive wine regions.
Wine was first produced in Sicily by the Phoenicians. The Greeks and Romans were aware of the area's potential thousands of years ago. The Greeks were especially important, with their pruning techniques and their vine training systems. Today, about 75% of wine is produced by cooperatives. White wine accounts for 70% of production. However it is the red wines that are grabbing international attention. The most popular and important are the red wines made from the nero d'Avola grape.
The grape is named after the town of Avola in South eastern Sicily in the province of Siracusa where the grape is believed to have first evolved. Given its adaptability, today nero d'Avola wines are produced throughout Sicily creating many different and wonderful flavor profiles. Nero d'Avola grapes have large leaves, medium-sized grapes with a bluish skin and medium-sized compact grape bunches. It is well suited to many different climatic conditions and is resistant to different fungal diseases. Approximately 12000 hectares are dedicated to nero d'Avola grapes in Sicily.
While travelling in Sicily last summer, the nero d'Avola wines fromthe towns of Noto and Pachino in the province of Siracusa, caught my eye above all. The town of Noto is also famous for its dessert wines (Moscato di Noto) while Pacchino (named after the Roman God of wine Bacchus) is world famous for its cherry tomatoes. The wines of Noto and Pachino have 2 elements which I appreciate in quality Italian red wines: cherry notes balanced with earthy notes, a long finish and good acidity. It has a wonderful perfume, a colour best described as velvety red. Nero d'Avola wines can be consumed young but also have excellent aging potential. While oak aging is used by some producers, it works well without the use of oak. It can and is often used blended with other wines. The Cerasuolo di Vittoria comes to mind (a blend of Nero d'Avola and frappato grapes. This wine is available in Quebec.
Historically, like many red wines in Southern Italy, nero d'Avola was trucked to northern Italy and France to add colour, body and to boost up and strengthen those wines when mother nature in northern climates would not cooperate. Originally, nero d'Avola wines tended to be high in alcohol and was often used in Marsala blends. However in the last 20 years, nero d'Avola has been transformed into one of Italy's premier red wines. Investments in viticulture, coupled with the arrival of dedicated winemakers from around the world have made nero d'Avola one of Italy's major wine exports. As in much of Southern Italy, yields per hectare have been reduced to improve quality. Given Sicily's hot and arid conditions, techniques such as night harvesting and the use of cooled vats to prevent premature fermentation, are important in retaining flavor profiles and to avoid high alcohol levels.
Besides the province of Siracusa, nero d'Avola is produced primarily in the provinces of Agrigento, Caltanissetta and Ragusa. The nero d'Avola produced in Western Sicily is heavier,  harper and more full-bodied. Those produced in Eastern Sicily are more subtle, refined and have notes of dried fruit. While those produced in central Sicily are the fruitiest. These  differences can be attributed to many factors such as: those produced at sea level. (Pachino) versus those produced at higher levels. (Agrigento) amongst others.
For those of you who are lovers of Aussie Shiraz, you will appreciate nero d'Avola. Many drinkers find similarities between the two when the nero d'Avola is produced with flavour profiles exhibiting ripe tannins, juiciness and above all pepper notes. In fact, the shiraz or syrah grape is often today vinified on its own in Sicily and many now blend nero d'Avola with Syrah. In terms of Nero d'Avola "emigrating" abroad, some nero d'Avola wine has been produced in California and Australia.
The island of Sicily had many civilizations and cultures as part of its history. Each one left a mark on its cuisine. Nero d'Avola is well suited for food and wine matching given its full body and high acidity levels. It is a wonderful match with roasted lamb or wild game. It works well with semi-mature cheeses such as pepato, a Sicilian pecorino cheese from Ragusa, which contains peppercorns which is a natural match for the spiciness of the wine.
Many nero d'Avola wines at different price levels are available in Quebec and Ontario. Two wines which I appreciate are RUDINI NERO D'AVOLA ELORO PACHINO 2008. (available at the LCBO) This is an excellent nero d'Avola for under $20 a bottle. It is deep ruby red in colour. It has some oak notes followed by typical cherry notes. On the palate you have a medium-bodied wine dominated by cooked fruit. The finish is long. Enjoy it with a t-bone steak on the bbq.
Available in Quebec is the SAIA FEUDO MACCARI NERO d'AVOLA from Noto. This wine is aged in French barriques. It is deep violet in colour. A complex and intense nose offering black cheery, spice and woody notes. On the palate you have great deal of body and tannins. The fruit and acidity are balanced and complimented by spicy notes. Try it with manicotti al forno.
Grazie e salute!
If you have any questions or suggestions for future columns, please contact me at vinumbonumest@yahoo.com. Domenico Cellucci is a wine consultant and educator and is a graduate of Algonquin College's Sommelier Program. He puts on food and wine matching events in the national capital area. He has visited wineries and vineyards in Italy, France, British Columbia, Ontario and the United States.