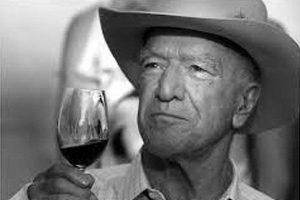 by Domenico Cellucci.
This week's column continues with the theme of great men and women of Italian origin that left their mark on winemaking around the world. One man I greatly admire is California's Robert Mondavi. To be truly successful in any endeavour, you must have a vision. Mondavi's vision was to create wines in Napa Valley that could compete with the great wines of Europe. In order to do so, he was determined to modernize the art of winemaking. Being a savvy businessman he also knew the importance of marketing. Today, everyone is used to seeing the name of the grape variety on wine bottles. You can thank Robert Mondavi for that. Buying wine, thanks to him, became consumer friendly. In short, he was a visionary that believed in the potential of California winemaking. He was determined to put Napa Valley wine on the map. He was, and is, an icon to the many California winemakers of yesterday and today.
Mondavi was born in 1913 in Virginia, Minnesota. His parents emigrated to the United States from Sassoferrato, Ancona in the Marche region in 1905. His father Cesare worked in the iron ore mines while his mother Rosa ran a boarding house. Cesare Mondavi would travel often to California from Minnesota to purchase grapes for home winemaking on behalf of the local Italian club.
In 1923, when Robert was 10 years old, the family moved to Lodi, California. There, Cesare Mondavi got into the business of shipping grapes for home winemaking across the United States. Together with his two sisters and brother, the young Robert Mondavi would help his dad package the grapes in wooden boxes.
After high school, Mondavi attended Stanford University and studied economics, business and chemistry. After graduating he worked at a small winery in 1936. This was pivotal. The more he learned about winemaking, the more he wanted to understand what went into fine winemaking.
In 1943, the Mondavi family bought the Charles Krug Winery in St. Helena in the Napa Valley. In those days he was already ahead of his time. He had tours of the winery. He invited tourists to sample the wines. The winery even had a newsletter!
He visited other wineries in California and witnessed how they produced wines using different styles of winemaking. In 1962 he travelled to Europe to see how they made wine. It would be a voyage that changed winemaking as California had known. In Europe they used smaller barrels to produce complex flavours. He noticed that barrels were made with different types of oak producing different flavours. He noticed as well, that the French left the skins with the must longer during fermentation in the production of Cabernet Sauvignon. Again this produces a more complex wine. In Burgundy, he saw how during the production of Pinot Noir, they would leave the stems with the grapes during fermentation. He brought all these techniques and more back to the family winery in St. Helena.
Unfortunately, his brother Peter, did not appreciate what his brother learned in Europe. The two disagreed on the future direction of the winery. And by 1965, the clash of visions between the two hit rock bottom. Robert decided to go on his own and opened up the Robert Mondavi Winery in Oakville, just a short five miles from the family winery.
With his own winery, Mondavi did not stop learning about wine making techniques. He was convinced that certain grape varieties thrived in certain soils. The soil and the climate, he concluded would determine the grape's final flavour. He also knew that the winemaker's intervention also played a role. He experimented with different types of oak barrels and used pneumatic presses to gently crush the grapes thereby avoiding harsh flavours. While many winemakers were on the Chardonnay bandwagon, he was convinced that he could produce a fine dry white wine using the Sauvignon Blanc grape which at the time was hardly used or known. For this he came up with the term Fumé Blanc. It was a marketing success. The French, of course, hated the term, insisting there was no such grape. Today, the term is synonymous with great Sauvignon Blanc.
In 1993, the winery became a public company. While his children ran the company, he travelled the world to promote it. He formed partnerships with the great winemakers of Europe and South America. In Napa, he and Rothschild from France produced Opus One, a premium red wine. In Italy, with the Marches de' Frescobaldi family he produced Lucente. In Chile, along with the Chadwick Family he produced Caliterra. The Rothschild and Frescobaldi families have been famous winemakers for centuries and are part of Europe's history. But here was Robert Mondavi, the son of poor Italian immigrants making wine with them!
In 2004, the Mondavi Corporation in a controversial takeover, was acquired by Constellation Brands (the world's largest producer of wine) for over $1 Billion. He decided to form a new family winery with his children Tim and Marcia called Continuum Estate.
Robert Mondavi passed away in 2008. What was his legacy? Above all, I would say he achieved his goal of putting Napa Valley among the world's great wine producing regions. He proved to the world that Napa Valley could produce some of the world's great wines. In his 1998 book on the history of the company, Robert Mondavi Harvest of Joy – How the Good Life Became a Great Business, Mondavi recalled:
"We in California had enormous potential; I knew we could become one of the great wine-producing regions of the world. But the American wine industry was still in its infancy, and no one seemed to have the knowledge, the vision, or the guts to reach for the gold, to make wines that could stand proudly next to the very best from France and Italy, Germany, and Spain."
This is a short synopsis on the man who "reached for the gold" What about his wines? Mondavi made wines at all price points. From the ultra-premium wines he aimed for, to the more affordable wines, Mondavi had a wine for all consumers in every price range. At the LCBO, many of his wines under the Constellation Brands line are available. These tend to be more affordable. While the wines produced under the Continuum Estate line are premium wines. I would recommend the Woodbridge by Robert Mondavi, Cabernet Sauvignon at $23.95 or for those of you with deeper pockets his son Tim's Continuum Estate Proprietary Red 2009 at $229.00
Finally, Robert Mondavi was like many of us. He was known as someone who enjoyed a glass of wine with every meal. He believed that wine was healthy, if consumed in moderate amounts. He knew the importance of food and wine matching. While he was a trailblazer in winemaking and marketing, what I admire about him the most is quite simple: he promoted the idea that wine should be present on the kitchen tables of all Americans, just as it had been present for generations of Mondavis.
Grazie e salute!
If you have any questions or suggestions for future columns, please contact me at vinumbonumest@yahoo.com.
Domenico Cellucci is a wine consultant and educator and is a graduate of Algonquin College's Sommelier Program. He puts on food and wine matching events in the national capital area. He has visited wineries and vineyards in Italy, France, British Columbia, Ontario and the United States.