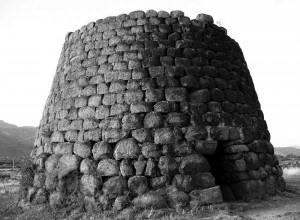 by Domenico Cellucci
Dear readers, I have had the opportunity in my life to travel throughout many of Italy's regions. One region which I have never been to is the island of Sardinia or Sardegna in Italian. It too, like the rest of southern Italy, is undergoing a wonderful renaissance in wine making. The island is located in the western Mediterranean and is surrounded by Corsica to the north, the Italian mainland to the east, Tunisia to the South, and the Spanish island of Menorca to the west. It has a mountainous interior, a rocky coastline and some of the world's most spectacular beaches. The island is ideal for the cultivation of vines: mild winters, hot summers, ideal soil types (limestone, fragmented granite and volcanic deposits) a hilly terrain and a lack of pests and diseases. And yet, wine making in Sardinia is not widespread. Today, about 800 000 hectoliters are produced on 40 000 hectares of land. The future holds great potential.
Like Sicily, it is an island which has been visited and dominated by many peoples of the Mediterranean during its history. Early settlements indicate that people have inhabited Sardinia for over 6000 years. Each of these visitors left a footprint on the island's winemaking. Like the rest of Italy, winemaking in Sardinia pre-dates the arrival of the Romans in 238 B.C. when Sardinia became a Roman province. In ancient times, the wines of Sardinia were highly praised by the Greeks. But a discussion on winemaking and Sardinian history must involve Sardinia's most famous civilization: the Nuragic. These peoples (called the Nuraghi in Italian), inhabited Sardinia from 3500 B.C. to the 2nd century A.D. They are famous for the construction of over 7000 nuraghi (ancient tower fortresses) throughout Sardinia. The earliest evidence of vine cultivation and wine making is attributed to these ancient people. DNA testing in 2004 on the remains of grape pips (seeds) and sediment were dated back to 1200 B.C. (Source: Wine Country). This would make Sardinia's vines the oldest in the world and not Mesopotamia's as traditionally accepted.
The most important red wine in Sardinia is the Cannonau. It is also known as Grenache or Garnacha in Spanish. It is produced all over the island and does especially well on the eastern coast. It is believed that the Spanish brought the Cannonau vine during the 15th and 16th century when they ruled the island. This grape produces a wine of a dark ruby red colour. On the nose you have blackberry, cherry, spice and some floral characteristics. It is a full-bodied and dry wine with a slight tannic finish. A rosé style is also produced using this grape. A typical Sardinian food match is with roasted lamb. Two of the better producers available at the LCBO are the Sella & Mosca Riserva at $15.95 and the Argiolas Costera at $17.95. These 2 wines provide excellent value for the money. Other reds grown on the island include Carignano, Bobal and Monica.
Amongst the whites, the most important is the Vermentino di Gallura which is the island's only DOCG wine today. This grape is also grown in Liguria where it is believed it came from. It is straw-coloured with some greenish hues. On the nose you have green apple and some floral notes. It is a dry, crisp, and light to medium-bodied white. The acidity in this wine makes it an excellent match for any creamy dishes. I have used it in the past as an aperitif. The LCBO has a few examples of Vermentino di Gallura. Again, I would highly recommend Sella and Mosca which is an excellent producer of this variety. Their offering, the Sella & Mosca Monteoro Vermentino di Gallura Superiore at $15.95 is more medium-bodied in weight and is an excellent match with grilled seafood. This grape is also made into a sparkling and sweet dessert wine. Other important white grape varieties in Sardinia are Nuragus and Semidano.
International varieties are also grown on the island in limited quantities (cabernet sauvignon especially) but with mixed success. For those of you that have a sweet tooth, the island is also home to dessert wines using grapes such as Malvasia, Moscato, Nasco and Vernaccia. Unfortunately, these are difficult to find outside of Sardinia.
The modern Sardinian wine industry is quite young. However, it has a tailor made climate for winemaking. It is blessed with the presence of interesting and unique native grape varieties. All of this leads me to believe that you'll be seeing more and more wines from this enchanting island in the years to come.
Grazie e salute!
If you have any questions or suggestions for future columns, please contact me at vinumbonumest@yahoo.com. Domenico Cellucci is a wine consultant and educator and is a graduate of Algonquin College's Sommelier Program. He puts on food and wine matching events in the national capital area. He has visited wineries and vineyards in Italy, France, British Columbia, Ontario and the United States.