This month's column continues with the theme of Ottawa's Wine personalities. Recently, I had the opportunity to sit down with the Carrozza brothers, Dominic and Pasquale, proprietors of Trattoria Caffe Italia. The story of the Carrozza family is one that we are familiar with: immigrants that left Italy to find the Canadian dream. They left Reggio Calabria Italy in 1972 and within a few years became very successful in their new land. The original Caffe Italia was opened in 1958 and became a meeting place for the new Italian arrivals. The family became involved with the restaurant in 1981 and in 1986 purchased the restaurant.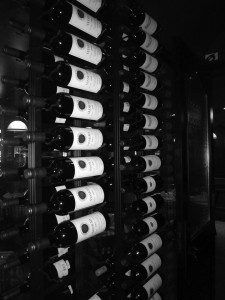 DC: Dom and Pat, I have eaten in your restaurant many times through the years and congratulate you on your success. It is well known in Ottawa that you have quite a wine collection. How many wines would you say you can offer the public?
D & P: We have over 8500 bottles representing about 801 titles. We have one of Ottawa's best collections of Italian wines. We are especially proud of our large section of verticals. For example, we can provide verticals of Super Tuscans from 1997-2009.
DC: I read the Wine Spectator often and your restaurant is always highlighted and commended for its collection.
D & P: Yes, we have been awarded the Best of Award of Excellence by that magazine since 2001.
DC: Do you offer any wines by the glass?
D & P: We currently offer about 25 wines by the glass and have 4 wines available using our Enomatic machine which can dispense 4 wines with a perfect pour at the perfect temperature and can preserve flavour profiles for up to 25 days!
DC: What are your top selling wines?
D & P: The three top sellers are wines from Chianti and Valpolicella for reds and Pinot Grigio for whites.
DC: In looking at your wine collection, many of the names are unfamiliar to me. Are many of your wines from consignment?
D & P: I would say that 85% of our wines are on consignment and therefore are only available at our restaurant in Ottawa. The rest are from the LCBO. We have patrons that return to our restaurant because they tried a certain wine that is not available anywhere else. For example, out of Veneto, you have Valsaia, a Rosso del Veneto by Luigi Righetti. A wonderful blend of Corvina and Cabernet Sauvignon. We are the only place in Ontario that has this wine.
DC: How many sommeliers do you have on staff?
D & P: Besides the two of us, we have Jacqui Peter, Salvatore Amendola and Josie Bellissimo.
DC: What kind of wine appreciation events do you put on for your patrons?
D & P: We often have private tastings with our patrons. Every month we put on dinners in our private room with wine makers, wine reps or with the two of us. We also participate in the annual Vendemmia held every September.
DC: On a more personal note, what are some of your favourite wines?
D & P: In the reds, we both appreciate Barolos, Barbarescos, Amarones and the Super Tuscans. In the whites, Sicilian whites are fantastic. The Grillo grape from Sicily in a blind tasting often fools people who think it's a new world white!
DC: I understand your sister Connie plays a big role in the kitchen. What are some of the Classic wine and food matches involving her delicious plates?
D & P: Osso buco and Chianti is a wonderful combination. With the whites the Grillo from Sicily and shrimp works so well.
DC: Lastly, when you introduce new wines to your collection, who is responsible for those decisions?
D & P: Salvatore and Jacqui play a big role in the beginning. But in the end, all the sommeliers and ownership sit down and decide which wines to add.
DC: Thanks so much for spending some of your valuable time with my readers and I today. Much continued success!
If you have any questions or suggestions for future columns, please contact me at vinumbonumest@yahoo.com.
Domenico Cellucci is a wine consultant and educator and is a graduate of Algonquin College's Sommelier Program. He puts on food and wine matching events in the national capital area. He has visited wineries and vineyards in Italy, France, British Columbia, Ontario and the United States.