This month's column marks the start of a series of articles dealing with some of Ottawa's wine personalities. I will be out in the community meeting those people that are promoting Italian wines. Wines from the bel paese are dominating restaurant winelistsin Ottawa. Some of the best selling wines at the LCBO and the SAQ in Quebec are from Italy. Many of the people in our community are playing a role in that success.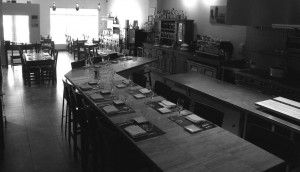 A new and unique arrival on the culinary and beverage landscape is Divino Wine Studio. It was begun in 2004 with wine tasting seminars in Ottawa. In 2005 it expanded and began wine tours in Italy in the spring and fall. In 2008, the present locale, Divino Wine Studio and Enoteca at 225 Preston Street was opened. It provides a restaurant, enoteca, tasting area with a modern Enomatic wine tasting stations and meeting rooms. It is always extremely busy with on-site wine courses, food seminars, cooking classes, language courses and wine tours of Italy. This month I had the pleasure to sit down with Antonio Mauriello, owner of Divino Wine studio and a graduate in 1995 of the Associazione Italiana Sommelier in Rome. He is the current sommelier consultant to the Italian Trade Commission and Italian Embassy.
D.C. Antonio how did you come up with the concept at Divino?
A.M. I had always wanted to incorporate the idea of the Italian enoteca. A place where people could meet and have a glass of wine paired with great food. As well, I wanted to have a place where people could learn about food and wine. That's why we have wine courses and cooking classes.
D.C. I am so happy you chose Preston Street for your studio. Had you considered other trendy spots in Ottawa like the Market or Elgin Street?
A.M. No, I had only considered Preston Street. My heart lies in little Italy!
D.C. Antonio, you just returned from a wine tour in Veneto, how has the economic crisis, affected the wine industry in Italy?
A.M. Well, obviously, the consumption of all kinds of consumer discretionary items is down. While the purchase of more expensive bottles of wine has suffered, people are still enjoying wine. I would say that wine, food and tourism are still doing well. Veneto was full of tourists this spring.
D.C. Antonio, many of my recent articles has touched upon the success of wine appreciation in Southern Italy. You have gone on many wine tours lately in Southern Italy, what do you attribute that success to?
A.M. I think that marketing has played the primary role. These wines have been well marketed in Italy, northern Europe, especially Germany and in North America. As well, financing from the European community has obviously helped. Small producers have received funding especially. Just as important these wineries have been modernized with stainless steel tanks, reduced yields etc.. I think Sicily and Puglia were the first to take off back in the 90's.
D.C. I have noticed on some RAI documentaries a lot of youth involved in Italy's wineries. Are today's youth interested in working nonno's winery?
A.C. Definitely. A lot more youth are involved than ever before. The quality of education is better. The new Universita' del Gusto with 2 campuses in Piemonte and Emilia-Romagna is training many new wine makers, both men and women. They have modernized nonno's winery. You also have to consider that no extra capital is needed. The land is already owned and the business is already set up. Any extra capital is used for marketing and technology. Young people are also involved in wine tourism. Many wine tours are offered in English by young Italians. Wine appreciation in the last 20 years has become very trendy in Italy. Many Italians are taking courses and are very knowledgeable about Italy's wine regions. No longer are people just drinking local wines. In fact with better knowledge and young people travelling, they are even drinking some foreign wines!
D.C. What's in store at Divino this Spring?
A.M. At the end of May my sommelier is putting on an Introduction to Wine Tasting course. Participants will be shown how to use their five senses to appreciate wine. The course also involves wine making, food and wine matching. We'll sample together 6 different wines. At the end of June, I am putting on a wine seminar entitled The Lighter Side of Wine. We'll taste 3 reds and 3 whites. We'll learn how to appreciate lighter wines. We'll discuss which ones to enjoy now and which ones can be cellared. I know Domenico, that you are an olive oil lover. At the end of June, we will put on an extra virgin olive oil seminar and tasting. Six different olive oils will be tasted along with some antipasti and of course a glass of wine! Participants will go through the tasting process. We'll discuss what to expect in a good olive oil and purchasing tips.
D.C. I think that's a great idea. Consumers are bombarded with so many olive oils at the grocery store. Many olive oils claim to be Italian when in fact, they are foreign olive oils shipped to Italy for bottling and sold as Italian olive oil. It was quite a scandal in Italy last year. Antonio, what do you hope to do with Divino in the years to come?
A.M. I want to continue to support small wine and olive oil producers in Italy. You were present when I had some visiting wine producers from Calabria and Puglia. I want to continue that type of exchange. As well, we hope to introduce some new Italian food items to the local market.
D.C. Antonio, thanks for sharing your thoughts with my readers. Salute!
If you have any questions or suggestions for future columns, please contact me at vinumbonumest@yahoo.com.
Domenico Cellucci is a wine consultant and educator and is a graduate of Algonquin College's Sommelier Program. He puts on food and wine matching events in the national capital area. He has visited wineries and vineyards in Italy, France, British Columbia, Ontario and the United States.