b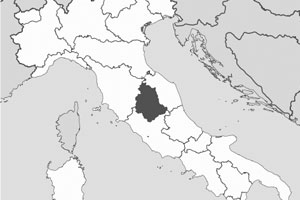 y Domenico Cellucci
My last articles have touched upon the renaissance which is taking place in winemaking in Southern Italy. This week we head north to central Italy, and the stunning region of Umbria, called the "green heart of Italy". This region is often overshadowed by its more famous winegrowing neigbour: Tuscany. Umbria only produces 1/3 of the wine that Tuscany produces. But in the last 10 years, Umbria and its wines are making a presence in export markets and producing crisp whites and complex reds.
Umbria brings back memories for me of a pilgrimage with my nonna in 1979, to the town of Assisi, and the basilica of Saint Francis. I still remember after all these years the beauty of those medieval villages, the hills and wonderful landscapes. Umbria is named after the Umbri tribe, which along with the Etruscans, inhabited this part of Italy in the 9th-4th century B.C.. Along with Tuscany, it is surrounded by the Marche to the east and Lazio to the south. As you can see on the map, it is landlocked. Like most of Italy, it is hilly with the Apennine mountains running through it. In terms of the soil, you will find mostly a mix of sandy soil and calcareous clay. Like Burgundy in France and the Mosel region in Germany, the Benedictine Monks, played a role in the history of winemaking in Umbria planting the first vines. The wines were sweet and used primarily for sacramental wines.
Umbria is known above all for its production of white wine. Over 60% of wine production in Umbria is white. One of the first white wines I tried as a young man was from Umbria: Orvieto. It is one of Italy's most recognized white wines and has been exported for decades. This white wine (named after the town of Orvieto) is made with Procanico (up to 65%) with smaller amounts of Malvasia, Grechetto, Verdello and Canaiolo Bianco grapes added in. Historically, it was produced as a sweet wine and became so appreciated by different Popes in medieval times that it became known as the "Pope's Wine". While still available in a semi-sweet style, today Orvieto is produced primarily in a dry and light-bodied fashion. It is pale straw in colour and the primary fruit aromas are citrus and green apple with secondary floral aromas. It offers a crisp and polished finish on the palate. Perfect with antipasti or soft cheeses. When shopping for Orvieto wine, choose one with the Orvieto Classico DOC designation. It will have a higher proportion of the Grechetto grape which offers more body, fruitiness and complexity in the wine. The Ruffino Orvieto Classico is available in Ontario and Quebec. International white varieties are also produced in Umbria. Chardonnay is often blended with Grechetto and barrel fermented. If you are ever in Assisi, many single varietal Grechetto wines are produced in the hills surrounding this town.
While Umbria produces primarily white wines, I would argue that its future lies with its complex reds. Umbria's only DOCG wines are in fact 2 red wines: Sagrantino di Montefalco and Torgiano Riserva. Sagrantino must be aged at least 29 months before it can be released. It is produced near the medieval village of Montefalco, 50 km south of Perugia. There are 25 producers on only 250 acres of land. Given the limited production, the wines are not well known outside of Italy. The grape (also called Sagrantino) is black in colour. It produces a very dark and dense wine. On the nose you have cherries, plums and violet notes. If one word can sum up the effect on the palate it is tannins. It is highly tannic and for me is a wonderful accompaniment to rich dishes. Given the high tannins, you should tuck this bottle away for 3-5 years to soften them. It is a full-bodied wine with medium acidity. Because of the complexity and structure of this wine, you should match it with dishes that can stand up to it, like rich stews, grilled meats and aged cheeses. A respected maker of Sagrantino is Lungarotti. The Lungarotti Sagrantino di Montefalco is available at the LCBO.
Umbria's other red DOCG wine, Torgiano Riserva is named after the town of Torgiano, located 10km south of Perugia. The wine is made mostly with Sangiovese and Canaiolo with the addition of no more than 10% of Trebbiano, Ciliegiolo and Montepulciano grapes. Tonnage per hectare is restricted to 10 tons and alcohol levels must be at least 12.5%. The wine must be aged at least 36 months prior to release. Visually it has a brilliant ruby-red colour. On the nose the aromatics are quite complex: blackberries/cherries combined with coffee/cocoa. It is a dry, full-bodied wine with medium/high tannins. Again this works well with aged cheeses and roasted meats. These wines are difficult to fine. At the moment, only the SAQ in Quebec carries a quality example: the Lungarotti Rubesco Riserva Vigna Monticchio 2006.
Salute!
If you have any questions or suggestions for future columns, please contact me at vinumbonumest@yahoo.com.
Domenico Cellucci is a wine consultant and educator and is a graduate of Algonquin College's Sommelier Program. He puts on food and wine matching events in the national capital area. He has visited wineries and vineyards in Italy, France, British Columbia, Ontario and the United States.