April 1, 2015 – An Ottawa family whose mother passed away from colon cancer in April 2015 is holding a fun fitness event to raise money for colon cancer prevention and build community around fun exercise. The event, Shake Your Booty for Susy, will feature Zumba fitness, cardio kickboxing and Bollywood Dance lessons by local instructors. Funds raised will be donated to organizations dedicated to increasing public awareness of colon cancer, funding research initiatives and providing colon cancer patient support. This is the second year of the annual community event.
This year featuring Kuljit and the Bollywood Heat!
Shake Your Booty for Susy will take place on Saturday, April 11, from 9 a.m. to 12 noon at the RA Centre, 2451 Riverside Drive in Ottawa. The RA Centre has generously donated space for the event. Tickets can be purchased online by donation at www.shakeyourbootyforsusy.com.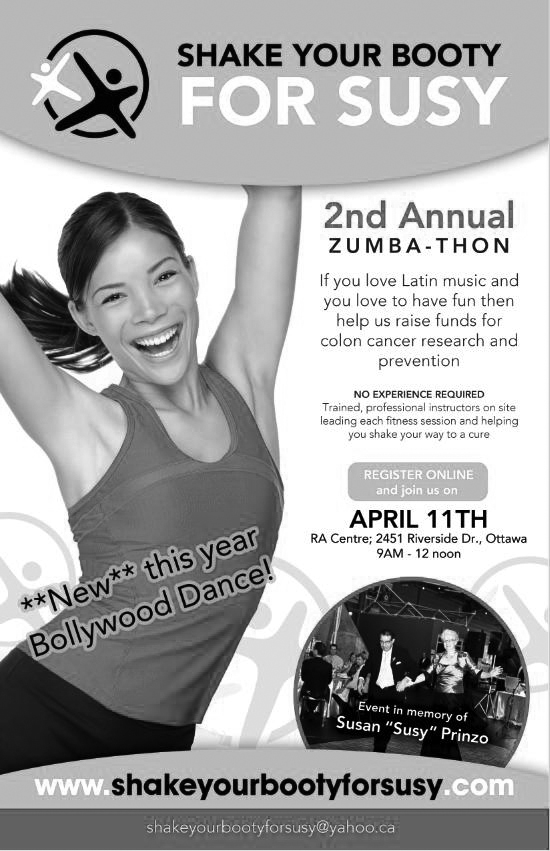 About Susanna "Susy" Prinzo
Susanna "Susy" Prinzo was 48 years old when she was diagnosed with stage 3 colon cancer. A healthy and fit wife, mother of three, and successful businesswoman, Susy had no family history of colon cancer. After five years of living with the disease, Susy passed away in April 2013, a month before her 53rd birthday.
"Susy was a role model to her family and friends alike: she was forgiving, empathetic, kind and generous. Despite the many challenges, pain and fear that cancer brought to her life, rather than complaining or carrying bitterness and anger, Mom taught us to trust, have faith, to love and support one another, and to appreciate the simple pleasures."
"Spending time with Susy was like coming home; she made you feel comfortable and cared for."
"She had a wonderful silly side and sense of humor, and an easy, bubbly laugh."
More about Susy: http://www.legacy.com/obituaries/ottawacitizen/obituary.aspx?pid=164198680
http://www.youtube.com/watch?v=uN4CQjuPxaA
Contact Information
Carmela Prinzo, Organizer
Tel. 613-866-0354
Email: shakeyourbootyforsusy@yahoo.ca Website: shakeyourbootyforsusy.com
Facebook: facebook.com/shakeyourbootyforsusy