MONTEROSSO, LIGURIA
Hiking the mountainside trails that run along the vast, turquoise Ligurian sea in the Cinque Terre National Park is a must. It's on most visitor's "bucket list", and this past year due to too much rain, portions of the Blue Trail (also called the "coastal trail," and officially "Trail #2) have remained closed between some of the villages.
Visitors are going home disappointed for no reason, as there are over 20 other trails that lace the region, winding up through the hills and vineyards, almost all with views of the sea below (it's wonderfully impossible to avoid).
Trail 6, for example, starts from the village of Corniglia and winds up through the mountains and wildflowers to the tiny settlement of Volastra. You walk on the sea, literally passing through the lush green vines of the local white wine that you will savor and appreciate much more as you arrive back down into the next village of Manarola.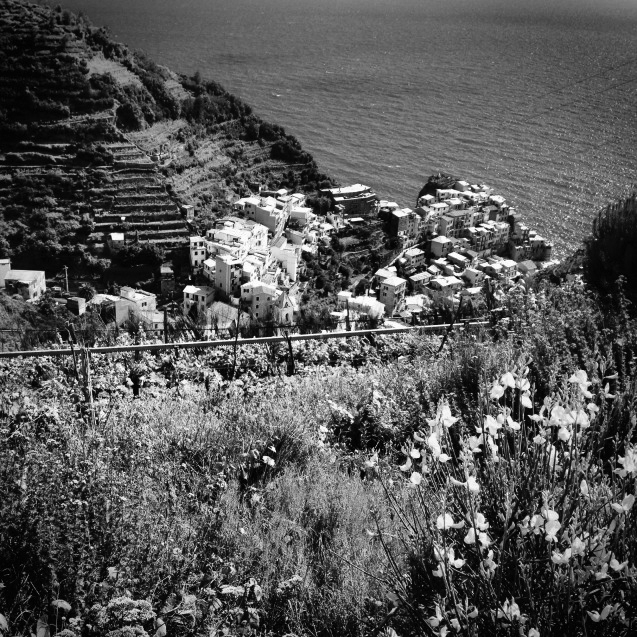 Trail 10 takes you from the beaches of Monterosso to the top of it's mountain, Punta Mesco, who looms in the distance in every photo. From here, the view over these 5 impossibly beautiful villages is truly breathtaking.
Trail 9 from Monterosso climbs up to the Sanctuary of Soviore, overlooking the town, then 8B winds you back down the hills on a trail that cuts through all of the greens and blues into the star of the show, tiny Vernazza.
The coastal trail being closed in parts doesn't mean you cannot hike from village to village. At the end of the day, they are all more or less "coastal" trails, and hiking some of these equally gorgeous and free other paths affords you a glimpse into the backbreaking history of cultivating the land of the Cinque Terre, all the while offering one heck of a view.
By Christine Mitchel