Today I'm featuring one of my favourite summer foods: pitticelle di riso. Pitticelle are like "fritters" (you'll remember I've featured a few on the blog already like pitticelle cucuzze and pitticelle di pane). The ingredients for this fritter aren't so "summery" really, but I'm used to having these crispy, fried treats at family outings, fishing trips, picnics and as snacks out in the backyard since they are good hot or cold. My mother's parents would always make these for our annual family picnics where they were treasured by everyone: a huge batch was gobbled up in no time once the Tupperware container was opened. Slow frying, making sure the rice grains stay individual and fresh ingredients are the secrets to this recipe.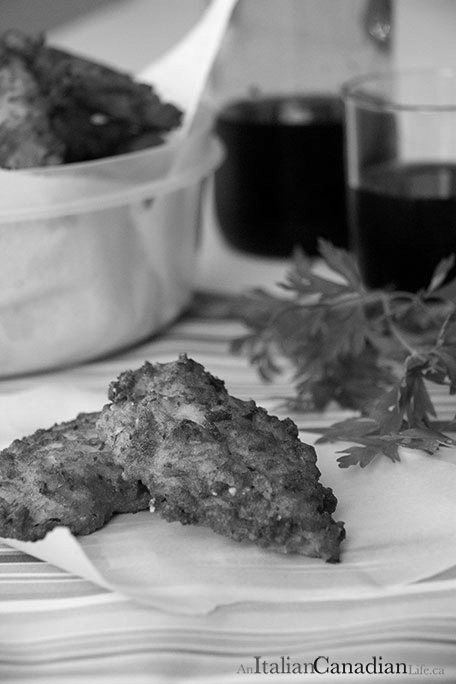 I'm sorry to say, but not surprised, that I don't have a recipe for small batch of these pitticelle. This recipe will make at least three dozen depending on the size you make. They are meant to be shared and, if you have leftovers, they are great crisped up in a toaster oven the next day too. Halving the recipe should work just fine, it's the consistency of the batter for frying (not too loose!) that you need to watch out for
Pitticelle di Riso
2 1/2 cups arborio rice
4 large eggs
1/2 cup finely chopped parsley
1 teaspoon granulated garlic or finely chopped garlic
1/2 cup grated Parmigiano-Reggiano cheese
3/4 cup all purpose flour
3/4 cup fine cornmeal
1 cup shredded mozzarella
salt, to taste
canola or vegetable oil for frying
Put on a large pot of water to boil, salting it once it comes to a boil (as you would for pasta).  Pour in the rice and boil on medium for 25 minutes until the rice is completely cooked. Each kernel will be fluffy and have an "uneven" look.
Drain the rice in a colander and allow it to cool for 10 minutes. Transfer the rice into a bowl and stir in 3 cups of cold water. Allow the rice and water mixture to rest until the temperature of the water and rice is tepid or room temperature.
In another large bowl, mix together eggs, parsley, garlic, parmesan, flour, cornmeal and mozzarella.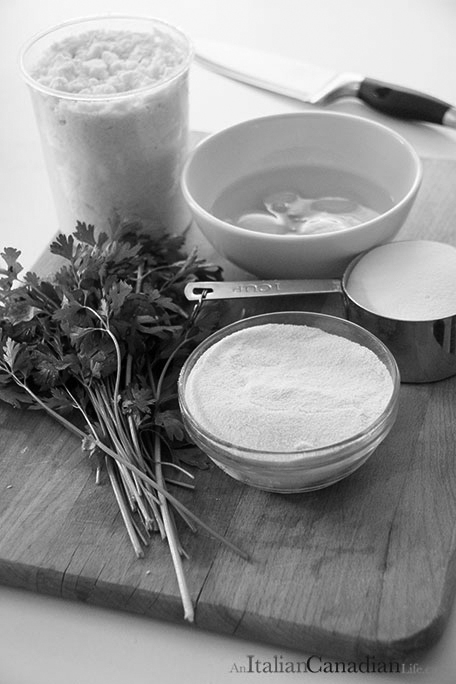 Add in the rice and water mixture (the rice will have absorbed most of the water by this point) to the egg mixture. Mix until sticky, with the consistency of rice pudding. If you find it too liquid, add an additional 1/4 cup of flour.
Put a frying pan on to heat filled with a 1/2 inch of oil. Canola oil is preferred for frying fritters because of its' high smoke point.
You can also test the consistency by frying one or two in advance. When scooped into the frying pan, the batter should not spread out thinly, rather it should bind together enough that it mounds in the oil.
One or two test fritters will also allow you to test for salt. There is no salt in the recipe since the rice was boiled in salted water and the cheeses are salty. If you find, however, that your test pitticelle are a bit bland, add salt if needed. Usually a 1/4 teaspoon of salt will do.
Using a large serving spoon, mound fritters into the heated oil. Fry to a deep golden brown, turning them once to get an even colour and crispiness. Be sure to stir the mixture between frying batches so the liquid of the batter doesn't settle to the bottom of the bowl.
When golden, remove the pitticelle from the frying pan with a fork or slotted spoon and drain on a paper-towel lined plate. These pitticelle are fantastic hot, but still really good cold. Once cooled they can be packed up for picnics and road trips – but be sure to bring enough to share!