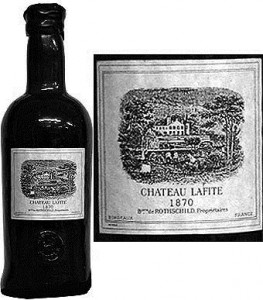 A friend of then-CIA chief Leon Panetta said he'd finally open a $10,000 bottle of wBINe when Panetta caught the Al Qaeda leader. A pouring is planned for this New Year's Eve.
The U.S. government offered a $25-million bounty for Osama bin Laden, but there was a lesser-known enticement for then-CIA chief Leon Panetta: a sip or two of Chateau Lafite Rothschild 1870, one of the world's most celebrated wines.
Last year, Panetta attended an annual New Year's Eve gathering hosted by Monterey restaurateur Ted Balestreri, who was chided by some of his 28 guests about the $10,000 bottle of wine sitting in his wine cellar. Asked when he would finally uncork it, he answered: "When Leon catches Bin Laden."
Panetta "jumped up and said, 'You're on!'" Balestreri recalled in an interview this week. Balestreri, co-owner of the Sardine Factory restaurant, said he never intended it as a serious challenge to Panetta, a 40-year friend who grew up in the Monterey area and represented it in Congress before going on to other top government jobs."It was like a joke,'' Balestreri said. "I used to tease him: Leon, you can't find your golf ball. How are you going to find Bin Laden""
One evening five months later, Panetta called his wife, Sylvia, from Washington. Sylvia Panetta, director of the Panetta Institute for Public Policy at Cal State Monterey Bay, recalled the moment vividly: "He said, 'Turn on CNN in 15 minutes. The president will have an announcement " and, by the way, tell Ted to get ready to open that bottle.'"The bottle, which Balestreri said he's owned for about 30 years, is still in the Sardine Factory's antique-laden wine cellar where his New Year's Eve guests raised toasts around a banquet table crafted from a 1,000-year-old Big Sur redwood.
He said he would be honored to uncork the rare wine this New Year's Eve, pouring a glass for each guest, including Panetta.Sylvia Panetta said she and her husband are looking forward to it, but she wasn't sure New Year's Eve would work. "It'll depend on Leon's availability," she said. "He's been a little busy lately."
Panetta was sworn in as secretary of Defense on July 1, two months after the raid on Bin Laden's compound in Pakistan.