Local Ital-Canadese Singer Alyssa Radulescu Sings Backstage For IL Volo At The National Art Center In Ottawa!
Article by Giovanni
Alyssa Radulescu was invited to go backstage to meet the talented trio IL Volo (Gianluca Ginoble, Piero Barone, and Ignazio Boschetto) who preformed to a sold out crowd at the National Art Center in Ottawa.
At IL Volo's request, Alyssa Radulescu was asked to sing a song backstage after the concert for them, as they were told that she was a local Ital-Canadese singer. They gave her their undivided attention as she delivered a powerful song by Alyssa's favourite artist Alicia Keys, "If I Ain't Got You". Alyssa Radulescu was thrilled by this amazing and unforgettable moment that she will never forget the rest of her life. She kept thinking to herself "is this really happening to me".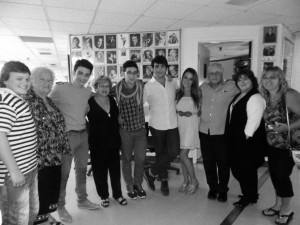 The all male trio IL Volo applauded Alyssa and told her she had a beautiful voice, as her mom and grandmother and a few other selected friends and family experienced this once in a life time moment backstage before IL Volo went to meet their fans at a meet and greet . Il Volo's first visit to Ottawa was amazing, they return Oct. 20 performing on a bill withBarbra Streisand.