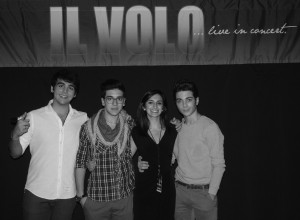 By Priya Khosla
Never before have there ever been more Italians gathered at the NAC, all of who were anxiously waiting to be entertained by Il Volo, the newest band who is originally from Italy and who are quickly gaining fame in North America.
Il Volo performed at the NAC on Tuesday, August 28th, exuding to the audience the meaning of its name. These three talented young men gave the audience a memorable night, serenading everyone with their incredible voices. Throughout the show, group members Piero Barone, Gianluca Ginoble and Ignazio Boschetto took the spot light while they each took turns performing a solo. In perfect vocal harmony, Il Volo mesmerized the crowd, earning them one standing ovation after another.
The show lasted approximately 2 hours, yet not enough time for the majority of the crowd as it left them chanting for more. As the concert was held in the Southam Hall, the space provided an intimate atmosphere between the band and the audience, as the three young men engaged with members, doing everything from waving to their fans and shaking hands while performing on stage to walking into the crowd and allowing audience members to sing into the microphone.
An interesting observation that night pertains to the demographics of the attendees, all of whom which ranged from young children to seniors, showing the effects of the groups powerful voices on people of all ages. As was visibly shown through their facial expressions and body gestures, each song was performed beautifully, and filled with intense emotion. While performing well-known famous songs, they were able to bring their audience members to Italy, giving them a taste of the Italian culture. In the end, the three young men gave the crowd an unforgettable performance, proving once more that they truly have voices beyond their age.