Easter is a very significant and important holiday in Italy and through-out the world. It's a great time of year that ushers in not only the celebration of Jesus' ressurection but it's a time of rejuvenation. Spring is in the air, the weather starts getting warmer and of course, the trees and flowers begin to bloom. Easter is also a food lover's dream! So many dishes to appreciate and to enjoy surrounded by family and friends.
In Italy, Easter is celebrated on Good Friday and Easter Sunday but on Monday they also celebrate La Pasquetta  (little Easter). Traditionally, family and friends re-unite at someone's house to enjoy good conversation over some great food. Sometimes, the Italians pack a picnic and enjoy the day outdoors. This is what we often did. We'd bring some baked pasta or lasagna, some panini, salad  and of course some Italian Easter bread and head to a park. Such a fantastic treat!
To me making traditional Italian recipes is a way to remember the meals of my youth and to enjoy the memories of time spent with my sisters and my parents. There's a great many stories I could share about sitting around the dinner table and enjoying each other's company and telling stories but for the purpose of this article I'll be sharing our recipe for traditional Easter Bread.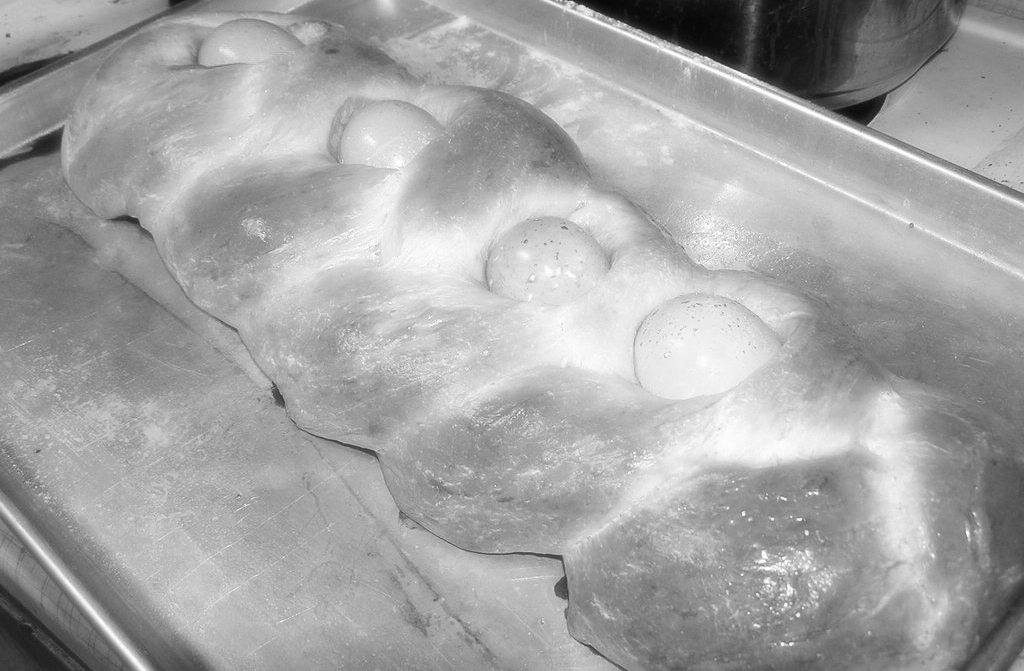 This recipe can be made with or without the inclusion of the eggs. I always liked the eggs because it made the dish look more festive but it's not necessary. Hope you enjoy! Buona Pasqua a tutti!
Makes 6 individual loaves
Ingredients:
1 package Rapid Rise yeast
1 ¼  cups scalded milk, cooled to room temperature
pinch of salt
1/3 cup butter, softened
2 eggs, beaten
1/2 cup sugar
3.5 cups flour
1 egg, beaten with 1 teaspoon of water
6 dyed Easter eggs
Sprinkles
In a large mixer bowl, combine yeast, warm (not hot) milk, salt, butter, eggs and sugar. Add about half the flour and beat until smooth with dough hook.   Slowly add the remaining flour to form a stiff dough. Keep adding until the dough is no longer sticky.
Knead until smooth with either dough hook attachment or turn out on floured board and knead. Place in a greased bowl, cover and let rise in a warm place until doubled, about an hour.
Punch dough down, divide into 12 pieces. Roll each piece to form a 1 inch thick rope about 14 inches long and, taking two pieces, twist to form a "braid", pinching the ends,  and loop into a circle.
Place on a greased baking sheet or line your baking sheet with parchment paper. Cover and let rise until double, about an hour again. Brush each bread with beaten egg wash. Put on the sprinkles.
In the middle of each bread ring, gently place an Easter egg, making an indentation with the egg.
Bake at 350 degrees until golden - about 20 - 25 minutes. Cool on rack.