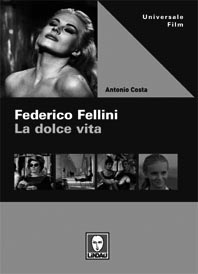 Fabrizio Magnanini
http://technosoc.blogspot.com/
If if we have to choose only one italian film to preserve, without any doubt it will be "La dolce vita" of Federico Fellini. There is no normal plot but the story follows Marcello Rubini (played
by Marcello Mastroianni, a wanna-be writer who works as journalist) for one week in Rome.
During the last days of 1999, the english newspaper The independent wrote a short review of the film (the film was broadcast in english tv) and they wrote "A film about the crisis of the end of the millennium, made 40 years before!".
After many years, it's even difficult to understand the impact of the film for audiences of 1960: nowadays many people think that the film is a celebration of the dolce vita (which means sweet life, meaning comfortable life) and that Anita Ekberg getting in Trevi fountain is the core of the film; they can't be more wrong. The film's message is against that lifestyle, Marcello (Marcello Mastroianni) is looking for the true meaning of life and he can't find it in the parties organized by the roman aristocratic class.
If we see the messages in the IMDB board we go from "the best movie ever" to "oh .. boring": it's not easy for new generations (the majority of people who use internet) to understand a film like that, a film that is 3 hours long and hasn't really a plot. You shouldn't watch la dolce vita (or the film "Tree of life" for example) like you normally watch a film but you should watch it like you watch a painting.
A curious anecdote: when Georges Simenon (belgian writer, president of 1960 Cannes film festival) announced that La dolce vita had won the Palme d'or (the best prize), the audience booed him.